Shopify's built-in point-of-sale (POS) capabilities make it possible for you to take your online store with you to sell at local events. POS capabilities make you a pop-up vendor even though you may never open a retail outlet down on Main Street. But as good as Shopify is for POS transactions, it is not perfect. Glitches do occur from time to time.
If you are having trouble with Shopify POS on your iPad, iPhone, or Android device, do not panic. Take a look at each of the four troubleshooting tips below. It's likely that one of them will solve your problem.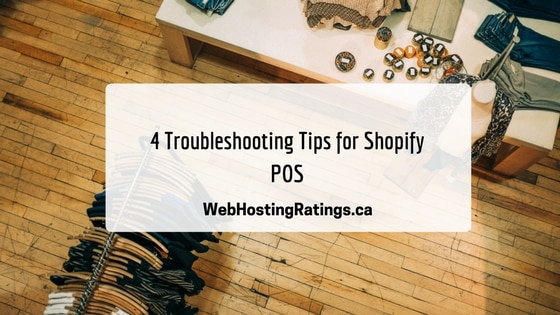 1. Shopify Is Not Properly Synced
The Shopify platform is designed to automatically sync your Admin with all the devices you use. In theory, using the POS app on your mobile device should not have any effect on automatic syncing. But you might be in the middle of a transaction when your connection suddenly drops out, causing mismatched information between your Admin and your mobile device.
The simple solution to sync problems is to force the mobile app to re-sync. Doing so is a simple matter of forcing the app to run in the background. Whether on iOS or Android, just minimize the app and then open something else temporarily. Close that new app before bringing the Shopify app back up. Everything should automatically sync right away.
2. Software Is Not Updated
Most Shopify users who elect to take advantage of POS capabilities will set their software updates to be automatic. If you have not, and the POS system starts giving you trouble in the field, stop everything and force updates for your mobile device. You can get updates on your Apple device by visiting the App Store and tapping Updates. In Android, open the Play Store, navigate to your apps, and tap 'Update All'.
3. Your Catalogue Is Too Big
Some Shopify POS users store their e-commerce catalogues right on their mobile devices in case their internet connection is dropped. This works quite well most of the time, but sometime mobile devices put a limit on the size of a Shopify catalogue. Check the Shopify documentation for a device-specific chart that should help you determine whether your catalogue is too big.
4. Slow or Freezing App
Like all other software in the world, the Shopify app is prone to slowing down or freezing in the midst of heavy traffic or usage. No worries, though. You can force the app to shut down, then restart it. This should solve your problem. In iOS just tap the Home button, find the Shopify POS, and swipe upward to force it to shut down. In Android, go to Settings>Application Manager. Find the Shopify POS and tap on it, then tap 'Force Stop'.
Shopify's POS app is stable enough that it doesn't cause a whole lot of problems. But it's nice to know that when problems do arise, a workable solution is usually one of the four tips listed above.