SEO experts tell us that website navigation is an important part of the user experience. What's more, giving users a positive experience encourages them to return whenever they're looking for the products, services, or information found on that site. So what does this tell us? That we need to make our sites as easy to navigate as possible.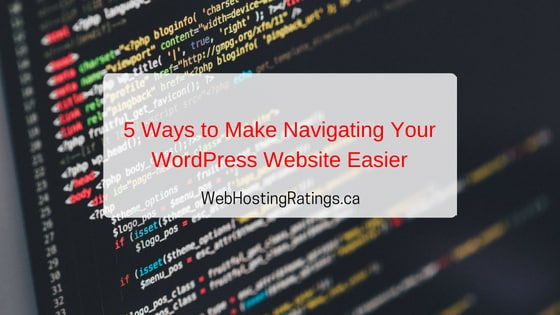 As a content management system, WordPress doesn't necessarily offer SEO-friendly navigation out-of-the-box. The built-in navigation of most themes is adequate if you're only running a simple blog site and nothing more. But if your site is more complex, you may have to improve the default navigation. Below are five suggestions for doing just that.
1. Limit Top Menu Structure
The biggest area of concern on many WordPress websites is what we know in the industry as the 'top menu'. This menu is the main navigation tool. You'll see it across the top of the site or along the sidebar on either the right or left. To make navigation easier, limit the number of items in this menu.
The general rule for the top menu is no more than five items. If your site is built with dozens of pages, you can always create sub-menus. Again, limit those sub-menus to five. A top menu with a single layer of sub-menus should be sufficient for all but the largest sites.
2. Use Graphical Links
The internet is a highly visual environment. Another great way to improve the navigation of your site is to use graphical links that take advantage of normal visual cues. So let's say your homepage includes a small section that spotlights your three most recent blogs. Find an image relevant to the content of each blog and then save those images as feature images. They will show up as thumbnails on your homepage links.
3. Use the Categories Widget
We assume you are taking advantage of the post categories built into WordPress to better sort your blog posts. Make it easier for visitors to find posts from specific categories by using the categories widget. You can put the widget in a sidebar and customize it to fit the style of your site.
4. Use the Recent Posts Widget
Along with the categories widget is the recent posts widget. You should definitely be using this widget if you update your blog regularly. Putting this widget in the sidebar gives your visitors instant access to desired posts without having to search for them. The widget is highly customizable as well.
5. Create a Sitemap
Our final tip for easier navigation is to create a sitemap. When all else fails, visitors will look to a sitemap to find specific pages or posts. You can create a sitemap manually (which is a lot of work) or use one of the many plugins available for this purpose. Sitemaps offer the added benefit of improving search engine rankings by giving spiders more detailed information about the structure of your site.