A/B testing is something software developers are intimately familiar with. Website designers also employ the practice. You are neither a software developer nor a professional website designer, so does this matter to you? You bet. Even WordPress users who handle all their work in-house need to take advantage of A/B testing.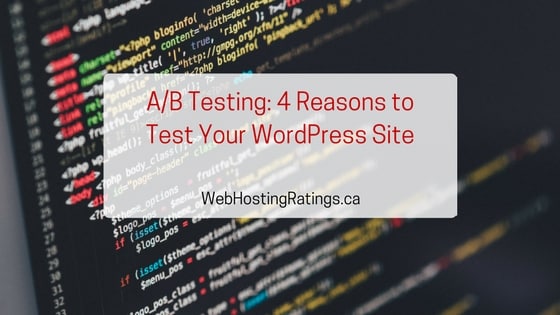 A/B testing is simply a means of comparatively testing changes before they are made permanent. So every time you make a change to your WordPress site, be it updating your header or changing the sidebar menu, you should test the results of that change before you finalize it.
Don't worry; you do not have to be a development guru to do this. There are a number of excellent plugins that make A/B testing very simple. We will not get into talking about those plugins here. You can search for them on the WordPress plugins page and read independent reviews to decide which one is right for you.
Here are four reasons you should be A/B testing your site:
1. Improved User Experience
User experience is a critical element of SEO and conversion optimization. If users find visiting your site unpleasant, they are not likely to stick around for long. That makes the chances of influencing them to make a positive decision about your company rather slim. You need to be A/B testing to ensure your users have a positive experience.
2. Better Calls to Action
Calls to action are intended to be the thing that pushes a website visitor over the edge in making a positive decision. How would you know if your calls to action are effective if you do not have a mechanism in place for testing their effectiveness? A/B testing provides that mechanism.
3. Higher Conversion Rates
The combination of a better user experience and effective calls to action should result in higher conversion rates. But other elements of your site can also affect conversion. You need to know what's driving conversion rates in either direction. Again, A/B testing fits the bill.
4. Maintaining Functionality
Some of the changes you make to your site could hamper its functionality in some browsers or across the mobile spectrum. This is something you definitely need to know. Any change that 'breaks' your website needs to be abandoned.
What You Should Be Testing
At this point, you might be wondering what kinds of things should be tested? Quite frankly, everything on your site could stand to undergo testing. But first things first. Focus initially on the most important components such as calls to action, page and post titles, and forms
You might find some A/B testing plugins do not offer the kind of functionality you need for the way your site is set up. That means you may have to try a couple of plugins in order to find the right one. Trust us when we say it is well worth the effort. A good A/B testing program will keep your site optimized and fully functional.