The third and final blog post in a series detailing the Shopify Timeline will focus on attaching photos and files to ongoing conversations. Just as with embedding links and targeting specific staff members, attaching photos and files is as straightforward as can be. Once you understand this last piece, you will be able to use the Timeline as a self-contained communication platform right within Shopify.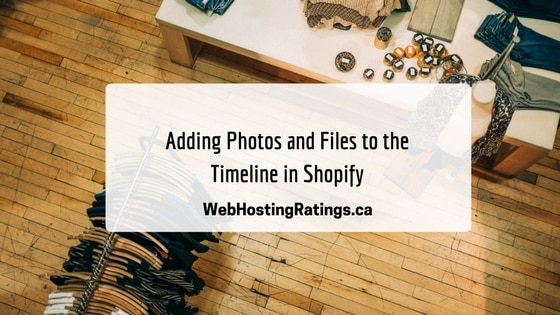 Adding Profile Pictures
The first thing to talk about is adding a profile picture to the timeline. This is separate from adding pictures that might pertain to a conversation you are having. A profile picture is one that represents you in the conversation. It is a lot like using a profile picture on social media or in your online chat program.
To add a profile picture:
Log on to your Shopify account and navigate to the Admin section
Click on your username, followed by clicking 'Your profile'
Navigate to 'Account information'
Click 'Upload photo
Use the dialogue box to find and upload the photo you want
Save your changes to make your profile photo permanent.
From this point forward, every time you use the Timeline your profile picture will appear next to your name. You can change your photo at any point by simply repeating the process. If you would rather use a custom avatar instead, just replace your photo with your chosen image.
Attaching Files and Other Pictures
Attaching a file or picture to an ongoing conversation is even simpler than adding a profile picture. Just open the conversation in question or start a new conversation if necessary. While you are typing your comments, you should notice a small paperclip in the comment box. That paperclip is your key to attaching files. Just click on it and use the new dialogue box to choose your files and pictures. An even quicker way to attach files and pictures is to simply drag and drop them right into the comment box.
You might want to attach a picture of an item showing damage incurred during shipping. You may want to send copies of a receipt to specific staff members, or send a file having to do with an inventory problem. You might even want to attach a printed copy of a shipping label to settle a dispute.
The kinds of files and pictures you can attach to comments is virtually endless. Really, the Timeline is only acting as a carrier for the files you want to transfer. Other software on your computer opens and modifies those files.
If you've read all three posts in this series, you should now have a basic understanding of the Shopify Timeline. You are ready to use the Timeline as a communication platform separate from e-mail, text messaging, and social media. Just bear in mind that only you and your authorized staff members have access to Timeline conversations; customers can never see the Timeline. You can consult the Shopify documentation if you need further help.