What is one of the first things that has to be done when opening a new online operation? Choosing a domain name, of course. The thing is, domain names are a lot more important than online retailers know. A website owner's choice of domain name plays a fairly important role in the amount of exposure that site gets on search engines and through link building opportunities.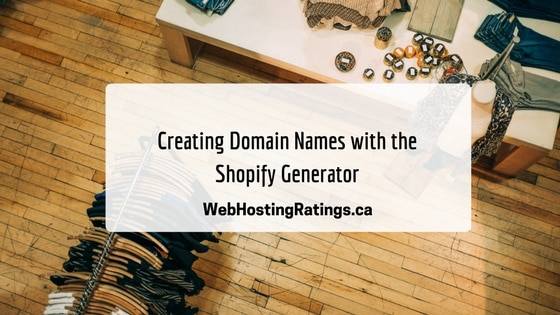 Shopify users will be pleased to know that the developers of the e-commerce platform have also created a domain name generator. Whether you were to register your domain directly through Shopify or some other party, you could use the domain name generator to come up with something that is both unique and attention-grabbing.
Using the generator is extremely simple. You just enter a keyword or phrase you want included in the domain and click the button. The generator will search for existing domains, eliminating them as possibilities, and then create new and unique domain names based on remaining results.
The more keywords you enter, the less creative the generator can be. It works well with just one or two keywords. Still, you should start by entering whatever keyword or phrase you believe is ideal for your business. Then choose from among the names the generator returns, or start over with new keywords and phrases.
Three Things to Consider
You might be wondering why we dedicated an entire blog post to something as simple as Shopify's domain name generator. Well, website owners do not give as much attention to domain names as they ought to. There are three things to consider, things that might lead you to use the tool next time you register a new domain:
1. Creativity Always Helps
Coming up with a domain people can easily remember is not as important as it was 20 years ago, but there is still something to be said about creativity. A domain name that is both creative and descriptive will help potential customers remember it. Even if they do not remember the entire domain, just remembering the first few words make your site a lot easier to find on a search engine.
2. SEO Benefits
The major search engines all account for domain names when scoring websites. If a domain name has a strong connection to the content of the associated website, the performance of that site on the search engine will improve. Strong SEO performance should be enough on its own to motivate you to use the Shopify domain name generator.
3. Good Names Go Quickly
The best domain names tend to go quickly. What does this mean to you? It means you could spend a lot of time checking every domain name you think of manually. By using the Shopify tool, you quickly eliminate names that are already taken. You are left the best, most creative choices still available.
Getting ready to register a new domain? If so, try using the Shopify domain name generator. It is a great tool.