Have you ever noticed in the comments section of one of your blog posts an automated comment from another site that has linked to yours? These automated comments are known as pingbacks and trackbacks. They once served a useful purpose in the days before the major search engines gave so much weight to backlinks, but today they are mostly the domain of spammers.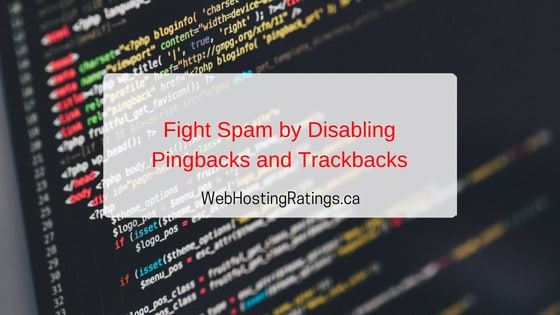 If your WordPress site gets a lot of pingbacks and trackbacks then you may want to think about disabling them. Even if you only get a few per month, they are completely unnecessary. Just turn them off and be done with it.
How They Work
WordPress has built-in functionality for both pingbacks and trackbacks. With the feature enabled, another website linking to one of your posts generates an automated response. The original purpose would have been to inform you that another site has linked to yours. Practically speaking, this allows website owners to automatically communicate that they are sharing content.
Spammers use pingbacks and trackbacks to send out an unlimited number of automated comments that include their own links. Sometimes they even use fake pingbacks and trackbacks in the hope of getting people to click so that they can harvest data. Again, your best bet is just to disable the feature in WordPress.
Disabling Future Instances
Turning off pingbacks and trackbacks is a two-step process. First, you will want to disable the feature for all future posts. Log in to your WordPress dashboard, then navigate to Settings>Discussion. The window that opens on the right will have a set of options under the 'Default article settings' heading. Uncheck the tick box next to 'Allow link notifications from other blogs (pingbacks and trackbacks) on new articles'.
Any future posts you add to your site will not be subject to pingbacks or trackbacks. That means you're ready for the second step: disabling the feature on all existing posts.
Disabling Current Instances
Disabling current instances is a simple issue of bulk editing. To start, navigate to Posts>All Posts. You should now see a running list of your posts in the right window. Check the tick box at the top of the screen next to the 'Title' heading to select all posts on that page. Next, click 'Bulk Actions' followed by 'Edit'. This will open a new edit window.
On the right side, find the 'Pings' drop-down menu and select 'Do not allow'. Then click the 'Update' button to save your changes. You will have to work through each page of posts in the 'All Posts' section in order to disable all current instances.
If you have a lot of posts, there is an easy way to do it quickly: under the 'Screen Options' tab at the top right corner of the Posts page, you can change the number of items per page to 999. Unless you have a thousand or more posts, they will all show up in a single window. You can then follow the process described above.