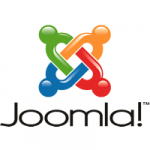 If you are installing Joomla! for the first time, you will notice on the Overview (Step 3) part of the installation that there is an option below Finalization that allows you to Install Sample Data. This feature was rolled out in Joomla! 3.0 and comes highly recommended by Joomla! for content management system newbies. The particular option you choose will determine how your website looks from the get go. If you are inexperienced, selecting the right Sample Data will be important in the overall set up of your website.
There are six Sample Data options to choose from in this section:
None
Blog English
Brochure English
Default English
Learn Joomla English
Test English.
Default English Sample Data is the setting that Joomla! has checked by default. If you want to change this, here is a closer look at each of the options.
None
Choosing None as the Sample Data option will see Joomla! go ahead and install the most basic of websites. The homepage of your site will contain nothing but a menu and a login page, both of which are placed in the right-hand sidebar. Selecting None will not be a satisfactory option for most people – even if your requirements are simple.
Blog English
Blog English Sample Data will provide you with a Joomla! website that looks exactly like a blog from the start. Recent posts will be displayed neatly in the main content area of the homepage and the sidebar will offer some useful blog features alongside the Main Menu, such as Older Posts, Blog Roll and Most Read Posts. There will also by a RSS feed and Bottom Menu for author login.
Brochure English
As the name suggests, Brochure English Sample Data will offer a brochure-like website set-up. The homepage will be set as a static page showing only one article and the sidebar will feature a login form and module for adding extra information about the site. If you plan to create a website to showcase your business and are not interested in the blogging element, this option is probably the best.
Default English
The Default English Sample Data option is very similar to Brochure English, except the text module is replaced by a Latest Articles module.
Learn Joomla English
The Learn Joomla English Sample Data aims to cater to all users and is set up to provide useful information on how Joomla! works. Articles included in the installation are tailored to beginners, upgraders and professionals, and the sidebar features links to areas of the site, as well as the Joomla! community. In terms of aesthetics, Learn Joomla English resembles some of the earlier versions of the CMS.
Test English
Test English Sample Data is designed for those that wish to contribute towards the growth of Joomla! 3.1. A homepage article features information on how to run tests and report bugs to Joomla!, while the sidebar provides links to All Front End Views for simple testing.