Whether you are a business account owner or just a blogger hoping for a new look, you have thousands of choices among third-party theme creators when it comes to WordPress Themes. Do yourself a favour and spend some time thinking about it. There is no need to rush into a new theme that could end up doing more harm than good.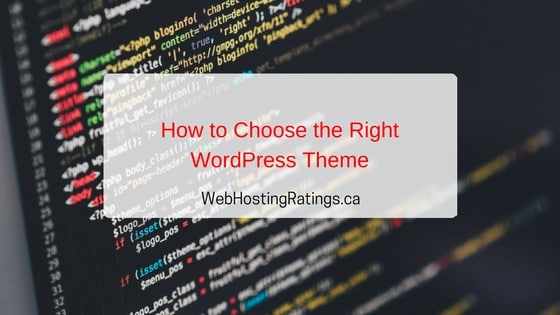 Audit Your Website
First and foremost, you need to step back and audit your website from the perspective of your visitors. Ask yourself some questions:
What is it that your site offers?
What sector is your organization engaged in?
What primary message are you attempting to convey?
What is the overall goal of the website?
An honest audit will help you automatically eliminate those themes that do not match your answers.
Browse Your Theme Choices
The next step is to start creating a general list of choices that can be pared down to a shortlist later. As you browse, keep it simple. Here's why: it's normal to choose more and more complex themes as a list of possible choices grows. By concentrating on simplicity, you will end up with a nice variety covering the entire spectrum from simple to complex.
Remember to Think Responsive
The prevalence of mobile devices means it is no longer just a good idea to have a responsive website. Responsiveness is now required if you expect your website to reach the widest possible audience. Anything you come across that is not responsive should be immediately dismissed.
Remember SEO Optimization
Reducing your first general list down to a shortlist begins with going through your choices and weeding out themes that are not SEO optimized. Don't worry, developers let it be known in their descriptions if they have optimized a particular theme. An optimized theme is a cleanly coded theme that will generally yield positive SEO results.
Consider Function and Aesthetics
Finally, reduce your list as far as possible by paying attention to both function and aesthetics. In terms of function, visitors should be able to easily navigate your site to find the information they are looking for with just a few clicks. If you are involved in e-commerce, you need a theme that will support your e-commerce plugin.
Aesthetically, the look and feel of your site should match the messaging you are trying to convey. Pay close attention to colour schemes, fonts, and headers/footers to make sure they match. Otherwise, you could end up with a theme that looks like the WordPress equivalent of plaid on paisley.
Follow these steps and you should be able to find a new WordPress theme in short order. Whatever you do, don't randomly pick a new theme without thinking it through.