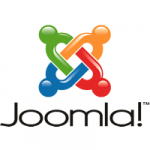 When it comes to videos, whether it is a vlog that you've posted online or a feature that you would like to post on your website, one site is head and shoulders above the rest – YouTube.
The video-sharing website gets more than one billion unique visits every month, with over four billion hours of video consumed during the same period. If you are putting a video up online, YouTube is the place to post it, and if you are searching for a video online, YouTube is the place to find it.
Given the popularity of YouTube, videos are becoming more commonly featured on websites and in blog posts. If you're a Joomla! user looking to put a video in to an article or module on your own site, here's how it's done.
Copying the iframe code
YouTube makes it very easy for users to share videos on social media and on blogs and websites. To get a video on your own site you will first need to set about copying the iframe code.
After finding the video you wish to embed on your site, locate, and click on, the "Share" button. This can be found just below the video next to the "About" option.
Once selected, "Share" will present you with a URL and social media icons. You need to ignore those and look for the "Embed" option. Clicking "Embed" will bring up the iframe code for you to copy and paste into your article or module. Before copying the code, there are options to resize the video, as well as privacy and HD settings; changing these options will change the iframe code, so make your selections first.
Turning off text filters
With the iframe code, it is possible to embed a video into your Joomla! post, or into a custom module. Before selecting either option you should go to the Control Panel of your website and System > Global Configuration > Text Filters. Under Text Filter Settings, scroll down to Super Users and make sure it is set to "No Filtering". This option should be selected by default, but if it isn't select it. "No Filtering" will prevent Joomla! automatically deleting the code.
Embedding the video into an article
To place the video in a new article, you should go to Article Manager and select "New". After selecting the title and category of your new post, look for the Source Code icon (directly below Font Size), this will let you view the HTML version of your content. Next, simply paste the iframe code into the HTML and click on the Source Code icon to return to the text version.
Your content will now show a yellow box. This represents the video.
Embedding the video into a module
To embed a YouTube video in a module, head to Extensions > Module Manager, select the "New" option and under module type, select "Custom HTML". From here, you will simply need to select a suitable position for your module and repeat the same instructions used for embedding a video into an article.
Once done, you can go to the front end of your site to see how the video looks.
By following these easy steps, you can have a YouTube video onto your Joomla! site in just a few minutes, giving your visitors exciting new content to enjoy.