A few weeks back, we published a series of blog posts explaining how to buy a Shopify store and how to sell a Shopify store. This post continues that line of thinking by addressing the idea of transferring store ownership. Shopify makes this possible through a fairly straightforward process.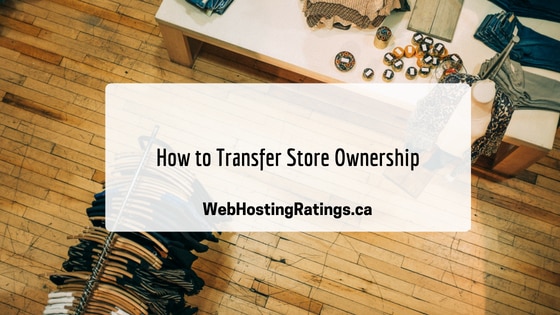 Why would someone want to transfer store ownership? There could be any number of reasons. For example, let us say a store owner wants to turn control of the store over to a senior staff member without going through a formal sale. Transferring ownership is a lot easier and faster.
Another scenario would be passing a store on to a child or spouse. Again, transfer is a lot easier when no sale is involved. Provided there are no complications with your account, you can transfer ownership in mere minutes.
A few of things to note before we explain the process:
First, you can only transfer ownership to a person currently included in your Admin as a staff member. If you want to transfer to a family member who is not yet part of your staff, that person would have to be added first.
Second, Shopify accounts can only have one owner at a time. If you were to transfer ownership only temporarily, the person to whom you transferred it would have to transfer it back to you using the same process described below.
Third, only the account owner has full access to a Shopify account including things like billing and account details. Once you transfer, your ownership privileges will be revoked. The new owner will have to set up permissions for you if you plan to continue accessing the store.
Completing the Transfer Process
It is really not difficult to transfer a Shopify store to a staff member. You can do it on your desktop computer or with the iPhone or Android app on your smartphone. The first step is to go into the Shopify Admin, then navigate to 'Settings'. This is where you can add a staff member if necessary. If not, click on 'Account'.
This will open a new window in which you can click on 'Staff members'. Find the name of the person to whom you intend to transfer ownership and click on that name. At the bottom of the screen you should see a link to make that staff member the owner. Click on it.
A confirmation dialogue box will then pop up, forcing you to confirm your decision. The pop-up will remind you that:
the new owner will have complete control over the account;
your account will become a regular staff account; and
you cannot undo your decision by clicking a button.
You will be asked to confirm your decision by entering your password and clicking the blue button at the bottom of the window. If you decide that you do not want to complete the transfer, just click 'Cancel'. If you need them, more detailed instructions for transferring accounts are found in the Shopify documentation.