When you begin creating a website on WordPress, you will get to know more about the functionality of the CMS and discover that there are a wealth of themes beyond the standard Twenty Eleven, Twenty Twelve, and Twenty Thirteen themes.
Many themes exist in the WordPress Themes Directory (over 2,000 and counting); however, with over 80 million downloads to date, it's going to be pretty hard to find a theme that is not being used by thousands of other bloggers.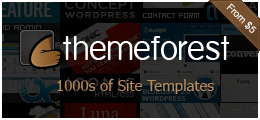 Fortunately, WordPress being as popular as it is means that there are thousands of themes available from third-party providers, many of which offer great features and can be customized to suit your specific needs such as the ones offered by ThemesForest.
However, while the majority of these third-party offerings are legitimate, some are out to exploit your CMS by placing malicious code on your site. To avoid being caught out by a third-party theme, you should use a plugin called Theme Authenticity Checker (TAC).
Installing Theme Authenticity Checker
Theme Authenticity Checker is a completely free plugin by builtBackwards and Ben Lobaugh. To install it, log in to your WordPress dashboard, go to Plugins > Add New and enter "Theme Authenticity Checker" in the search box. Click on Install Now to install the plugin and then Activate plugin to complete the set up.
Using TAC
With TAC installed, you can now go to the web and download any third-party theme of your choosing, and upload it to your wp-content/themes folder via your FTP client.
Now that a theme is installed, go to Appearance and notice that there is now a menu option called TAC. Click on it to run the plugin.
Theme Authenticity Checker will now run a scan of all of the themes on your site and provide you with a review of its findings. For themes that have passed the authenticity check, TAC will display a message that says "Theme Ok!" in a green box. If discrepancies are found, for example encryption code, TAC will display the message in a red box.
Deleting a Theme
If the plugin displays a message in a red box, the theme is likely to harm your site if it is used, therefore you should probably delete it.
To do this via the admin panel, go to Appearance > Themes and click on the Delete link underneath the thumbnail of the theme. To do this via FTP, you will need to log in to your server, open the WordPress Installation folder, find the wp-content/themes folder and delete the necessary theme.
If you run a WordPress website, the TAC plugin is definitely something you should install and use, especially during the creation stage when you are must likely to be experimenting with themes.