The WordPress UI is built on the principle of themes. There is no denying that. Even if a WordPress user never makes an effort to find a theme appropriate to his or her website, the platform will use the default theme out-of-the-box. This suggests that you might as well find a theme that enhances what you are trying to accomplish rather than detracting from it.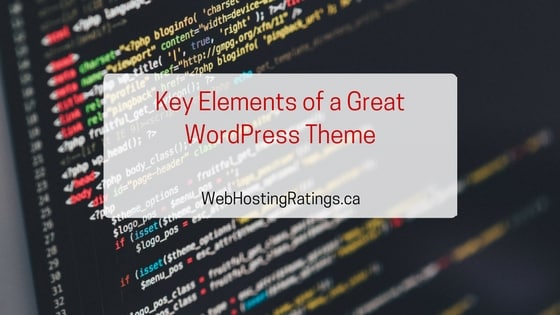 Choosing a WordPress theme is about more than finding something with colours you like. It's true that some developers seem to do little more than create a single theme with colour variants and then pass them all off as separate things, but there are also developers that have put a lot of time and effort into developing great themes capable of making a real difference for the WordPress user.
Every WordPress site owner should be seeking out that perfect theme. To that end, here are the key elements of a great WordPress theme:
1. Responsiveness
A WordPress theme that is responsive is one that displays equally well on both mobile devices and desktop or laptop computers. Understand that responsiveness is no longer an option. With mobility on the rise, site owners that neglect responsiveness will find their sites do not generate the volume of traffic they otherwise would. Above all else, the most important elements of a great WordPress theme is responsiveness.
2. Cross Compatibility
Web browsers are another big issue for website owners. Unfortunately, developers refuse to get in line with a set of standards that would enable websites to display the same way regardless of the browser used. This requires theme developers to test their work to ensure cross compatibility with the most used web browsers on the market. When searching for a theme, check the description and the details for any information regarding browsers they may or may not be compatible with.
3. Intuitive Navigation
Moving beyond 'under the hood' functionality, our next key element addresses the user experience. How users perceive their experience will determine whether they return to a site in the future. Therefore, site owners have to be sure they provide a positive experience. Intuitive navigation goes a long way in that regard. Intuitive navigation is simply a way of navigating around a website that seems natural. If a user cannot intuitively find the information he or she is looking for or has to dig through multiple layers to find it, the chances of having a positive experience are diminished.
4. Visual Consistency
Last is the element of visual consistency. A theme that is visually consistent utilizes colours, graphics, and fonts that work well together. For example, creating a business site with neutral colours and an elegant font would be a waste of time if you used a grunge background. Visual consistency requires choosing a background that fits seamlessly with your colours and fonts.
The WordPress UI is built on themes. Make sure your chosen theme is working for you rather than against you.