Please note that this post contains affiliate links and we may receive commissions for purchases made through links in this post.
The latest news out of Shopify is the introduction of their brand-new credit card chip and swipe reader for mobile devices. If this isn't big news to you, it may be because you've never used the Shopify platform to take your sales out into the streets at local festivals or pop-up opportunities. That alone is reason enough to consider getting your hands on one of these new card readers.
Shopify is a cutting-edge company that is not content to sit on the sidelines while others compete aggressively in the online retail space. As such, they did not contract the design of their new card reader to someone else. Everything was done completely in-house. That ensures the card reader is up to the company's high standards.
The card reader has only been out for a few months and it is already a hit. Here are some great reasons to get your hands on one: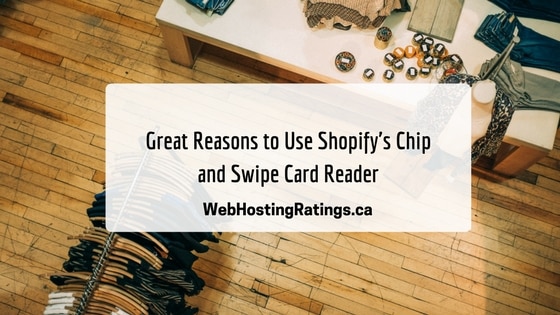 1. Take Your Business Anywhere
The card reader connects wirelessly to both Android and Apple devices via Bluetooth. Just pair the reader with your mobile device and it will be instantly available in the Shopify app. You will now be able to take your business anywhere you have a Wi-Fi or data connection. You can sell at a local music festival, at your favourite flea market, or anywhere else you can find customers. You can use it at your brick-and-mortar retail location, too.
2. Accepts All Major Cards
Shopify's card reader works with all major cards including Visa, MasterCard, American Express, and Discover. Card technology is not a problem either. You can either swipe the magnetic strip or insert cards with embedded chips. Best of all, the reader is small enough to do everything with one hand.
3. Long Battery Life
Battery life is important when you're taking your retail store on the road. Don't worry, Shopify says that the card reader can handle up to 400 chip transactions or 700 strip swipes on a single charge. At the end the day, just plug the card reader into the charger. It will be ready the next day.
4. Faster Processing Times
Shopify's card reader speeds up payment processing times by eliminating the need to enter credit card data manually. Gone are the days of holding a customer's credit card in one hand and punching in the numbers with the other. Transactions are faster and more accurate.
5. The Cheap Price
Lastly, Shopify is determined to get these card readers into the hands of as many users as possible. At least for now, the entry-level price is just $29. That's not bad for an integrated POS solution guaranteed to work with the Shopify app right out-of-the-box.
Shopify's new card reader is yet one more example of why the platform is one of the leading e-commerce solutions online. Shopify makes it as easy as possible to open and run an online store with a need for very little tech knowledge. And now they are making it even easier to take your store on the road.