As Shopify evolves, developers are adding additional tools to make it more usable. One of the great tools very few people know about is the Timeline tool. This tool can be used to communicate with your staff via orders, transfers, and customer profiles – all without needing to leave your current work space or invoke the use of e-mail or chat programs.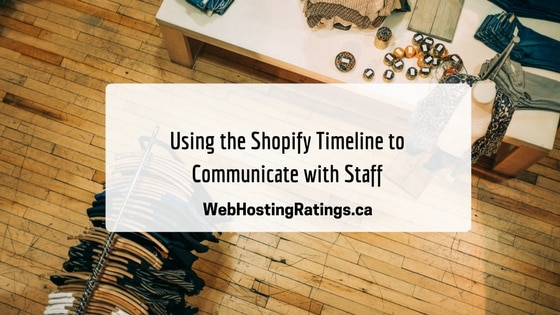 Installing the timeline tool is not necessary per se. It is already active by default. So using it is just a matter of learning how it works. That starts with understanding what you can do with the timeline.
The best way to grasp how the timeline works is to think of it like the comments section at the end of a blog post or article. You can leave your own comments that can then be seen by everyone else who visits that post. Other visitors can reply to your comments or leave their own. Shopify's timeline works the same way.
You can use the timeline to:
Communicate – Leave comments for your staff about particular orders, customers, or transfers. You can make your communication general enough for all staff members, or target specific staff by using their user names.
Add New Comments – You can add to any conversations started by staff members.
Attach Files – If it becomes necessary to attach a file so that staff members better understand something left on the timeline, you can easily do that.
Add Photos – You can add profile photos to the timeline if these are helpful to an ongoing conversation.
Create Links – Most importantly, you can create links within timeline comments to orders, transfers, customers, or products. This makes it possible to create an entire conversation around a specific topic without ever having to leave that part of the Shopify Admin.
With all this built-in capability, you will be able to engage your staff with communications that only you can see. Every comment left on the timeline is viewable and accessible only by you and approved staff members. Your customers will never have access to that information, nor will they ever see it.
How to Use the Timeline
Using the timeline is straightforward. From the Shopify Admin, choose the category under which you want to start the conversation. This can be orders, customers, products, or transfers.
Let's suppose you have chosen a transfer. Navigate to that transfer. Then, in the Timeline section, click on 'Leave a comment'. Then just enter the text in the box along with any links, staff member names, files, you want included. Click 'Post' and you're done. The information is immediately viewable by other staff members.
The instructions here are just a basic introduction to timeline use. Over the course of the next several blog posts, we will provide more detail about some of the individual functions. In the meantime, you can practice using the timeline as a basic communication device between you and your staff.