Our previous blog post referenced using the Shopify Timeline as a means of conducting interoffice communications within the Shopify platform. We will continue this topic over the course of the next several blog posts, including this post that will focus on targeting certain staff members in Timeline communications.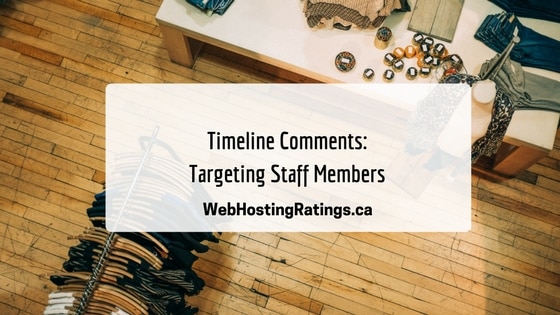 Just as a reminder, the Shopify Timeline makes it possible to add customized comments to product pages, orders, customer profiles, etc. It is a very useful tool that allows store owners and their staff to directly communicate about things pertaining to the Shopify environment without ever having to leave it. Store owners can communicate with staff members without relying on e-mail, text messages, etc.
How to Target Certain Staff Members
The process of including certain staff members in a conversation while excluding others is as simple as targeting those specific staff members by linking to them in your comments. It is as easy as using the same 'at' symbol we are already familiar with via e-mail.
To target just a single staff member, type your comment followed by the @ and the staff member's name. Shopify has the ability to intelligently recognize what you might be typing, and it will attempt to auto fill the name. You can either let it do so or input the entire name manually. If you are not sure of the username a certain staff member has chosen, you can simply click the @ symbol at the far right of the dialogue box and a full list of registered staff members will appear.
To target multiple staff members, just follow the same process above but insert commas between each staff member. Bear in mind that only staff members who are registered users of the Shopify platform can be targeted. No one outside the Admin environment can see Timeline comments.
Reasons for Targeting Staff Members
It is all well and good that you can target certain staff members in Timeline comments, but why would you? Well, there are as many reasons as there are members on your staff. In fact, there are probably more.
One example that immediately comes to mind is communicating with a particular staff member regarding a problem order he or she is trying to fill. The rest of your staff need not worry themselves about this order so there is no need to include them. Just by targeting that one staff member, you can have a conversation between the two of you.
You might target a staff member because you believe that person is the best suited to handle a problem. You might want to alert another staff member to a particular order or customer profile for training purposes. The list of possibilities is endless.
Shopify's built-in Timeline feature is a great way to communicate with your staff within the platform. Whenever you target specific staff members with your comments, they will receive an e-mail notification. If they actively use the Shopify app, they can also elect to receive push notifications as well.