The fact that WordPress is the most used content management system (CMS) in the world means that new users are entering the WordPress world every day. Many of those users know very little about the CMS concept, let alone all the mechanics behind WordPress. That's okay though, as WordPress is designed for people who want an uncomplicated way to build websites without having to be university-trained web developers.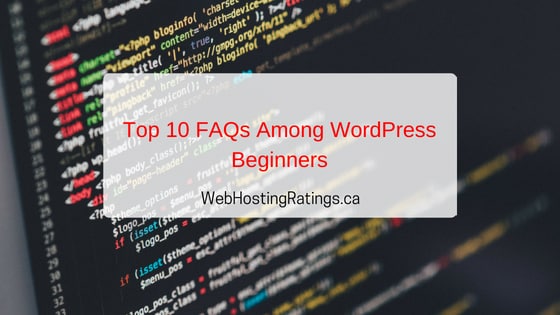 We thought it might be helpful to have a list of the top 10 questions asked by WordPress beginners. So without further delay, here they are:
1. What is a content management system?
A CMS is a software tool for managing all the content on a website without having to know computer coding. The tools built into a CMS handle all the coding automatically, making CMS use as easy as using a word processor.
2. What are WordPress themes?
WordPress themes are sets of instructions that tell web browsers how to display website information. A theme determines everything from page layout to font selection to colour scheme.
3. What are WordPress plugins?
Plug-ins are small apps added to WordPress to increase its functionality. There are literally thousands of plugins that make it possible to do just about anything with your website.
4. Is WordPress secure?
Despite its many critics, WordPress itself is very secure. Developers work hard to keep it that way. When WordPress sites are vulnerable, it is usually due to third-party plugins rather than the CMS itself.
5. How is WordPress installed?
WordPress can be installed manually or through a web hosting provider's control panel. Most people install it using the latter option. If you want to install WordPress but do not know how, contact your web hosting company and ask for help.
6. Can WordPress really be installed in 5 minutes?
The five-minute installation is a WordPress hallmark. Yes, it really can be installed in 5 minutes. However, you then have to add content. That takes additional time.
7. What are widgets?
WordPress was one of the first CMS products to make use of widgets. Widgets are small snippets of code that typically run in the sidebar or footer of a WordPress site. For example, if you see a drop-down menu with links to past blog posts, that menu is likely deployed using a widget.
8. Does WordPress have any SEO benefits?
Veteran WordPress users know how to get maximum SEO productivity out of the CMS. In short, there are plenty of SEO benefits from using WordPress. It is just a matter of learning about them.
9. Can a WordPress site have multiple administrators?
Yes, you can have as many administrators of your WordPress site as you want. WordPress gives you the option of assigning roles and privileges to an unlimited number of people.
10. Is WordPress open to user subscriptions?
Yes, users can subscribe and unsubscribe to WordPress sites as they see fit. Subscribed members receive e-mail updates whenever a site changes.