Creating an email list is a great way to reach out to your customers or other followers when you have important news or announcements. Of course, you do not want to send emails to your mailing list too often or it will seem like spam but, if used correctly, a mailing list can be a powerful marketing tool. First, though, you have to create it! One quick and easy way of doing so is to use MailChimp, an email program that can be integrated with WordPress. There are some other email programs you can use, but MailChimp is perhaps the simplest, and it's free if you send no more than 12,000 every month and limit your subscribers to 2,000 or less. Once your subscribers reach more than 2,000 you can upgrade to a paid plan.
Signing Up For a MailChimp Account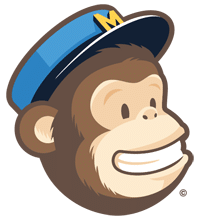 First, you will need to have a MailChimp account. You can visit mailchimp.com to sign up for a free account. Just click the Signup Free button and create an account. Once you have registered, go to the MailChimp dashboard. You will need to sign in and create an email list. This is very easy to do: click on Create a List, enter the name of it, the email address for users to reply to, and more. Click Save after you've entered everything on the form. This will create the email list.
Next, you will need to create a way for users to sign up for your MailChimp email list on your WordPress page. This is also very simply because MailChimp comes with a basic subscription form that can be added to WordPress, so you don't have to actually create anything. Instead, go to MailChimp and look on the Lists page. Click on the down arrow over on the right side for the email list you want to use. You will see a drop down with options such as Manage Subscribers, Signup Forms, Settings, and Import. Click on Signup Forms.
Embedded Forms
You will now be taken to the page where you can select different signup forms. Select Embedded forms. On the next page, you will be able to customize this form whatever you want. You can add a title, show different fields, and change how text is formatted when entered. As you make chances, you will see that the HTML code shown on the bottom of the page updates. When you are finished, you'll want to go down to this code box, highlight everything, and copy it (either press control + C or right click and select Copy).
Now go to WordPress and click Appearance, Widgets. Create a Text Widget and add it to your blog's sidebar. Now paste the code you have copied into it. Save the changes.
Back On WordPress
Now if you go to your WordPress site, you should see the widget on the sidebar and the signup form. Go ahead and add a test email to it. Then go back to MailChimp and send out a test email to make certain that your email list is working. If it is, you're good to go. If not, try copying and pasting the code into the widget again – it's possible some code is missing.