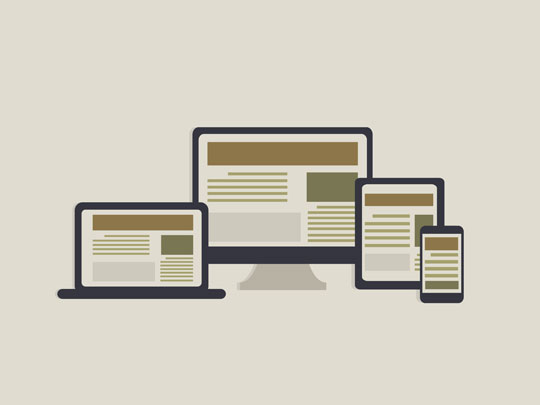 In today's world, it is crucial for businesses to have an online presence. With more people turning to their mobile devices to browse the Internet, it is just as crucial to have a website that will adapt to all the different platforms. This is where Responsive Web Design themes come into play. A responsive theme does not care what type of device it is being displayed on, be it a laptop, PC with multiple monitors, smartphone or a tablet. It will adjust to all shapes and sizes of the devices displays. While adjusting, RWD allows the site to keep a sleek and professional look. Below are 5 great responsive WordPress themes from ThemeForest for business websites.
Karma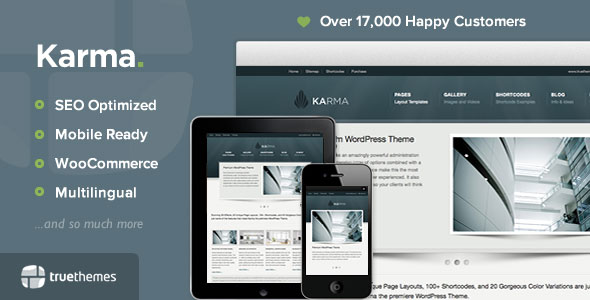 Karma has a very clean and modern look. It comes with 20 different page layouts as well as 20 color variations. In addition, the color schemes can be mixed to create a unique look. Karma also has over 100 shortcodes which allows you to easily insert features, such as videos and price tables, among many others.
DynamiX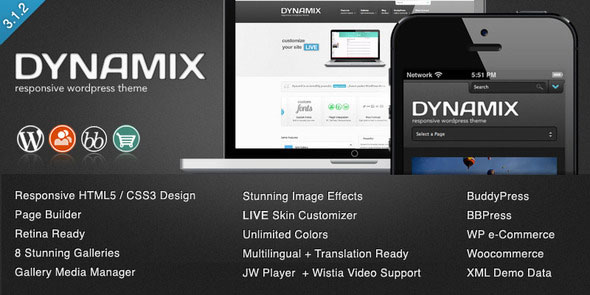 Dynamix is a very powerful, feature loaded and, as the name suggests, dynamic theme. Its ability to flawlessly incorporate any of 8 image galleries screams professional. In addition, it is simple to make use of the skins offered, or create custom ones, giving virtually unlimited possibilities. DynamiX also incorporates a very important feature for Apple devices, Retina graphics. This means the images in the theme will look crisp on iDevices.
Sterling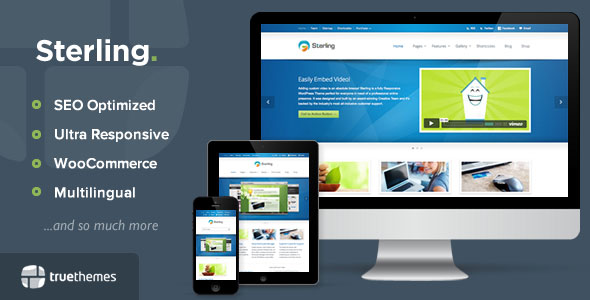 Sterling comes with over 40 icons and 11 stock photos to use when creating a website. It is highly customizable, yet simple to use. Anyone from a professional developer to a beginner can create stunning, yet functional, works of art.
!LesPaul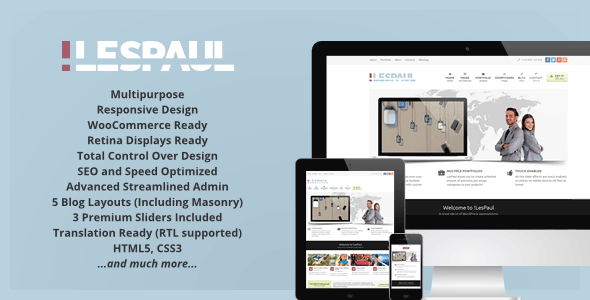 Modern and flexible, !LesPaul comes with 5 blog layouts. Not to be outdone by DynamiX, 3 premium sliders, Soliloquy slider, LayerSlider and Revolution Slider are also included. !LesPaul is also Retina Ready.
Nevia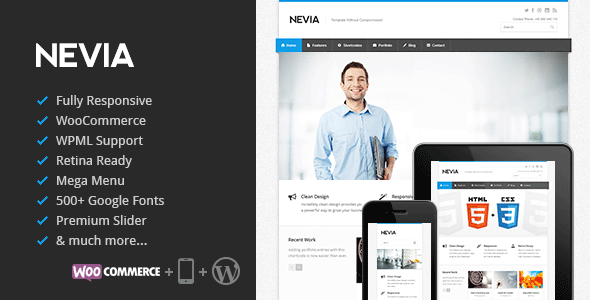 Last, but certainly not least, is Nevia. Among numerous other features, Nevia comes with a unique MegaMenu. MegaMenu allows adding lists, paragraphs and even forms within the dropdown menu. Keeping with the professional motif, Nevia is also very clean and sleek. Like DynamiX and !LesPaul, Nevia is Retina Ready.
In addition to all of the features and customization possibilities, all of these themes come WooCommerce ready. Which means, it is easy to turn any WordPress website into a powerful eCommerce store. All themes also come with tutorial videos to help get up and running in no time. If that's not enough, feel confident in knowing top notch support is available should any issue arise.
Conclusion
Responsive themes play a critical role in ensuring online business websites are keeping up with the various display sizes of laptops, PC's, tablets, smartphones and other mobile devices. The importance of going Responsive nowadays to maintain a professional online presence simply cannot be overstated and must not be underestimated. Any of these 5 themes will provide a business with a website that is sure to impress customers while remaining functional across various devices.