goMobi offers a service that allows you to create a mobile version of an existing Web site. goMobi was designed and produced by dotMobi, a worldwide leader in the development of mobile services and systems for businesses. DotMobi is a subsidiary of Afilias Limited, and was founded by 14 advanced technology companies with major partners including big names like Google GSM Association, Microsoft, Nokia, Ericsson, Visa, Vodafone and Samsung Electronics, T-Mobile and many others. These names are a real guarantee of quality for anyone wishing to use the services of GoMobi and take advantage of the various benefits and guarantees that it can offer.
The principle behind the goMobi software is that you can create a mobile version of your own website to make it available on different platforms and thus reach a wider target audience, consumers or buyers based on the type of site you have. Mobile sites created with goMobi are perfectly optimized for smartphones, tablets and other types of phones and communication tools. The application allows anyone who wants to open a mobile version of their site to do it very easily and in just minutes. In addition, creating a mobile version of a website is very accessible in terms of cost and can suit all budgets.
With this type of offering, goMobi is riding a new trend – the explosion of the mobile web. Indeed, more and more people are able to surf directly from their smartphones and tablets and can access the same sites than on a computer. To ease navigation with a smartphone or a tablet, the sites must adapt to this new phenomenon by designing mobile versions of their websites, optimized for mobile phones. GoMobi has been very successful recently, and is actually present and used in over 25 countries worldwide.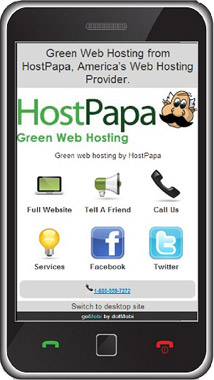 The application itself has a sophisticated interface, yet still very simple, which allows each user to navigate easily. When you want to create a mobile website you simply need to register your GoMobi account and let yourself be guided. The mobile site can be designed according to your desires, needs and tastes. Many features are present which allows you to create a pleasing, practical and ideal interface for navigation on a smartphone. For example, it is possible to indicate the various links to several social networks, insert videos, image galleries or indicate their location. If the site that you want to create is the mobile version of an online store, goMobi also adapts to such needs as it is possible to insert a product catalog for buyers to buy directly from the mobile site. The features listed here are only a small part of all that the software can offer. GoMobi is a quick and simple solution, but it also allows access to a number of advanced services that will convince all those wishing to use this site.
GoMobi is currently offered by a limited number of web hosting compagnies. HostPapa is a Web hosting company that we recommend that offers goMobi. Learn more by reading our HostPapa goMobi review. Other hosts, such as UK2.net also offers goMobi.