HostGator Review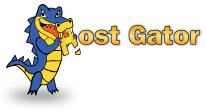 HostGator is an international web hosting provider with clients in more than 200 countries around the world. Their dedicated staff of more than 750 employees is happy to provide you with shared hosting, VPS, dedicated servers, and even reseller service options. HostGator is based in Houston, Texas and has been in business since 2002. Whether you're a beginner or a seasoned Web pro, HostGator has a plan and service options that are right for you.
HostGator Shared Hosting Features
Customer service is at the heart of HostGator's shared hosting services. All shared hosting plans come with a 99.9% uptime guarantee, unlimited bandwidth and storage space, and unlimited sub domains, FTP accounts, and e-mail accounts. Plus, the owner of the company guarantees his personal support if it's ever necessary. If you believe a support ticket is not being handled properly, you can send it directly to the owner and he will handle himself.
Shared hosting also provides users with an intuitive and easy to use control panel, free site building tools, thousands of pre-made web site templates, free scripts, domain name transfer and other DNS services, and much more. HostGator offers 24/7 support via telephone, live chat, and ticketing system, plus an online "library" consisting of hundreds of videos and articles, and a discussion forum. And the icing on the cake is that all of this comes with a 45-day money back guarantee.
HostGator Shared Hosting Plans Prices
HostGator offers 3 different shared hosting plans at the following prices:
Hatchling Plan – $3.96/month for a three-year plan
Baby Plan – $6.36/month for a three-year plan
Business Plan – $10.36/month for a three-year plan
All shared hosting plans include additional pricing for 2-year, 1-year, 6-month, and monthly options.
HostGator VPS Hosting Features
HostGator offers Linux VPS hosting plans utilizing Dell Power Edge servers. VPS plans are customizable and scalable, giving you full root access and the ability to run anything in a virtual environment that you'd be able to run on a dedicated server. All VPS plans include CentOS Linux (32-bit and 64-bit), unlimited domains and sub domains, unlimited e-mail accounts, private name servers, off-site backups, and the VIRTUOZZO Power Panel.
You'll be able to install dozens of site builder applications and customize them to your specifications, and manage it all with the optional cPanel control panel. HostGator's VPS supports popular platforms like FFMpeg, MySQL, Perl, PHP, Python, and Ruby on Rails. And for your peace of mind you'll be able to count on uptime with HostGator's six different bandwidth providers, full redundancy, a state-of-the-art data center, and multiple security layers. Throw in 24/7 support and server monitoring, and you're good to go.
HostGator VPS Hosting Prices
HostGator offers 9 different VPS plans:
Level 1 – $15.96/first month; $19.95/month recurring
Level 2 – $23.96/first month; $29.95/month recurring
Level 3 – $31.96/first month; $39.95/month recurring
Level 4 – $55.96/first month; $69.95/month recurring
Level 5 – $75.96/first month; $94.95/month recurring
Level 6 – $95.96/first month; $119.95/month recurring
Level 7 – $119.96/first month; $149.95/month recurring
Level 8 – $143.96/first month; $179.95/month recurring
Level 9 – $167.96/first month; $209.95/month recurring
HostGator Dedicated Server Hosting Features
HostGator is proud to provide both Linux and Windows-based dedicated servers. They offer a fully managed dedicated server program which includes free cPanel/Plesk and management services worth more than $100. HostGator's dedicated servers provide both 32-bit and 64-bit capability, full root access, free billing and client management software, site building accounts for your customers, free Enom reseller account, and thousands of website templates. Naturally, you also get support for MySQL, Apache Web Server, and more.
Since databases are such an important part of today's Internet, HostGator has you covered there is well. You'll get unlimited MySQL databases with phpMyAdmin access; you'll also enjoy CPAN, Curl, GD Library, and Image Magick programming modules, Front Page extensions, SSH Access, and programming languages like Perl, Python, CGI, PHP, and Ruby on Rails. All of this comes with HostGator's 24/7 security, system monitoring, and technical support.
HostGator Dedicated Server Hosting Prices
HostGator offers 4 dedicated server plans at the following prices:
Basic – $139/first month; $174/month recurring
Standard – $175/first month; $219/month recurring
Elite – $223/first month; $279/month recurring
Pro – $299/first month; $374/month recurring
All dedicated server plans include free cPanel (Linux) or Plesk (Windows).
HostGator Coupon Code
WebHostingRatings.ca is pleased to offer two special HostGator coupon codes for Canadians. To get $9.94 off your order use the coupon code WHRCA994OFF (perfect for shared hosting orders):
HostGator $9.94 Discount
Get a $9.94 discount on any HostGator.com order - recommended use for orders of less than $40
Or, get 25% off your order by using the HostGator.com coupon code WHRCA25OFF (perfect for VPS and dedicated servers orders):
HostGator 25% Discount
Get a 25% discount on any HostGator.com order - recommended use for orders of over $40
HostGator Customer Service / Technical Support
Customer service and technical support are HostGator's strong points. They provide 24/7 support via telephone, live chat, or ticketing system. As mentioned, the company even promises customers that they can contact the owner directly, via their ticketing system, if they are unable to find a resolution to their problems through the regular channels.
A sampling of the dozens of customer reviews shows only a small portion (20%) with complaints about customer service and support. Overall customer reviews complement HostGator with the glowing comments about how all of their problems are solved quickly, the fact that their tech support personnel is knowledgeable, and that they've enjoyed in nearly 100% uptime over many years as customers.
HostGator Overall Rating
Overall, it's not hard to understand why HostGator is the home of more than 5 million websites around the world. Their pricing packages are extremely affordable, their technical support and customer service has won numerous awards, and the owner of the company is personally involved in day-to-day operations.
For all these reasons, they deserve

4.5

stars on

5

.
HostGator offers an impressive range of hosting options. It is ideal for new website owners, as you can start with a small hosting plan and upgrade to a more comprehensive plan as your site grows. For additional information about the features offered by this web host, visit HostGator.com.