It seems like it's been a while since we have posted about Canadian VPS hosting experts MyHosting.com sent a recent email about some new MyHosting coupon codes for the months of November and December 2012. These promo codes can be used by both new and existing MyHosting customers. With the coupons listed on this page, you will be able to save between 20% and 50% on your web hosting order.
The MyHosting coupon codes listed below are valid at least until the end of the year 2012:
MyHosting 50% Discount Shared Hosting
Receive a 50% discount when you order a shared hosting plan - Personal Website, Business Hosting or eCommerce Hosting - with this MyHosting Coupon Code.
MyHosting VPS 25% Discount
Receive a 25% discount on the total price of your MyHosting.com VPS order when you use this coupon code.
MyHosting Free Months of VPS Hosting
Receive 3 months free for annual VPS signup, 4 months free for 2 year VPS signup or 6 months free for 3 year VPS signup with this MyHosting promo code.
Want to use one of the MyHosting promo codes during the months of November 2012 and December 2012? All you have to do is click on the yellow coupon tag that displays the coupon code. You will be redirected to the MyHosting Website, and the coupon code will have been saved and copied. Once on myhosting.com, select the web hosting plan you'd like and paste the coupon code in the myhosting promo code box.
Look at the image below for an example of the coupon code applicable for a shared hosting plan with the MyHosting 50% discount coupon code: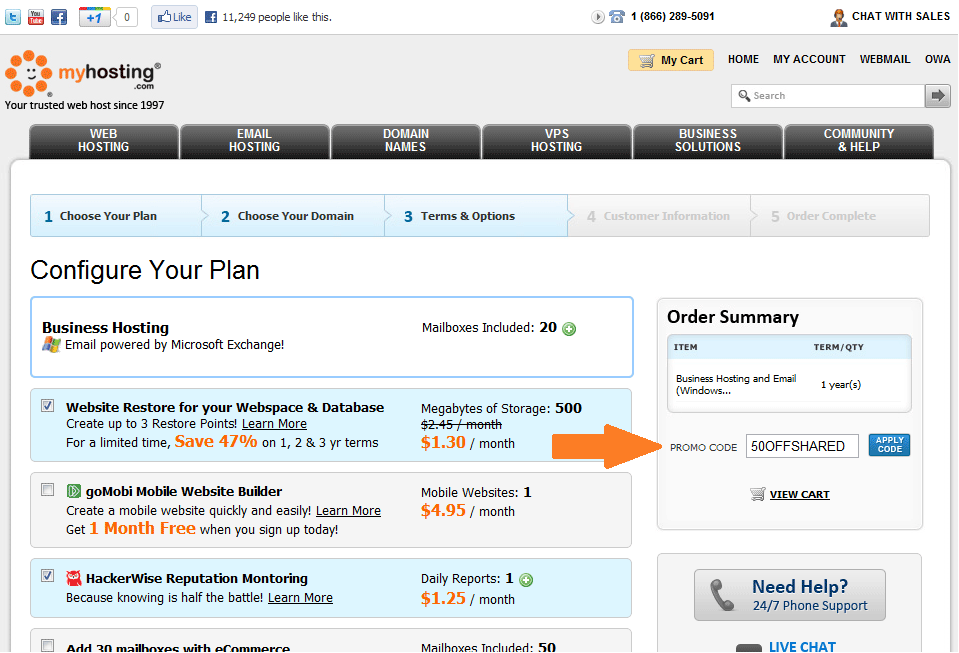 For more info on the Canadian Web Host MyHosting.com, please read our MyHosting.com Review and MyHosting.com Coupon Codes List pages.