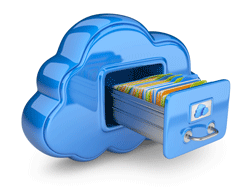 At long last, cloud storage has gone mainstream and been embraced by consumers of all sorts. Businesses in particular love the ability to make nearly limitless storage available from anywhere. Insofar as portability and redundancy are concerned, cloud storage is a godsend for many. Of course, putting your files "in the cloud" has both upsides and downsides that must be carefully considered before making a decision on any one service. The following breakdown of the major cloud storage providers should make the choice a bit easier.
Dropbox Review

Dropbox Strengths & Selling Points
Dropbox doesn't really need any help in selling itself, for the most part. It's easy to use and the available clients are intuitive. If you don't want to rely on the desktop client or web client, there are apps for every major mobile platform. That means that pretty much every OS from Linux to Windows to iOS is supported. Security is respectable thanks to AES-256 encryption. IT admins in particular love the Activity Directory support and the granular control over user access that it affords.
Dropbox Potential Downsides and Cons
One of the main reasons why some businesses and casual users don't spring for Dropbox is price. Simply put, there are cheaper providers out there. Though Dropbox boasts fairly advanced version history, finding the exact file you're looking for can be confusing. In addition, group collaboration isn't as slick as some competing cloud file storage platforms. Lastly, the advanced search capabilities and file format support of Dropbox are bested by Google Drive by a considerable margin.
Box Review

Box Strengths & Selling Points
Though not as popular as Dropbox, Box is nevertheless a contender. One of its primary claims to fame is its enterprise friendliness. Businesses of all sizes love its extensibility via third-party apps. Beyond that, there's excellent Active Directory support as well as an intelligent approach to permissions and single sign-ons. Authenticating and syncing accounts for Salesforce, DocuSign and NetSuite is a breeze. You can also use Google Drive features with Box. Aside from those pluses, Box boasts respectable capacity at an affordable price.
Box Potential Downsides and Cons
If you're only interested in Box for basic backup and syncing a la Dropbox, the service might not be right for you. It lacks the same local client functionality that you might be used to if you're a Dropbox fan. Exporting documents created from within Box can sometimes be a pain. In general, there's more of a proprietary feel to the service that can be rather annoying. Beyond that, Box's learning curve can be a tad intimidating to new users.
Google Drive Review

Google Drive Strengths & Selling Points
One of the most exciting newcomers in the cloud storage space, Google Drive has an impressive feature roster and excellent value. For one thing, Google Drive offers an impressive 15GB of space out of the gate for free. If you spend a lot of time in Gmail, the ability to save attachments to Drive is a big plus. You can even create documents, spreadsheets and even sketches directly in Drive. Collaboration functionality is superb and Google Goggles Image Search is incredibly advanced.
Google Drive Potential Downsides and Cons
For many, the biggest issue with Drive is the fact that it further increases their reliance on one company. In addition, the 15GB of free space provided by Google is actually shared by Gmail, Google Docs and Google+. At present, Drive doesn't boast as many client options as Dropbox. Team collaboration features are also somewhat behind those of older, more established cloud services. Finally, Drive occasionally undergoes minor UI design changes that can be somewhat irritating.
iCloud Review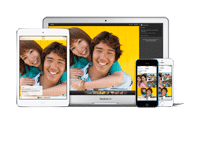 iCloud Strengths & Selling Points
While iCloud is understandably focused on Mac OS X and iOS users, it can be used on a desktop installation of Windows as well. Its automatic backup of mainstay productivity tools like Calendar, Contacts and iWorks is seamless and easy to configure. Security is quite good thanks to standard SSL encryption as well as Keychain, which can save passwords and other log-in credentials effortlessly. As far as search functionality goes, iTunes Match is an excellent way to root through your media. Unlike the infamous MobileMe, iCloud is fairly glitch-free.
iCloud Potential Downsides and Cons
In the cons column, iCloud's biggest weakness is its focus on Apple devices. It lacks the extensive file format support of many of its rivals, which makes it difficult to manipulate and move around data. As such, it's not a true all-purpose backup solution a la Dropbox. Furthermore, the web interface lacks some features that are standard on services like Drive and Box. Finally, there's the ecosystem lock-in that comes with using Apple hardware and software.
OneDrive (formerly SkyDrive) Review

OneDrive Strengths & Selling Points
Like its predecessor SkyDrive, OneDrive offers a laudable 7GB of free space right off the bat. OneDrive's behind-the-scenes automated mobile backup functionality for iOS and Android is easily the equal of iCloud. The desktop client in particular is incredibly well-designed and easy to use thanks to the clean Metro UI layout. It also boasts offline editing in Word, which is a plus if you encounter unreliable network connectivity. OneDrive is also a decent bargain, with 100GB costing just $50 per year.
OneDrive Potential Downsides and Cons
Since OneDrive is a relatively new service, it's not without its drawbacks. For one thing, its search capabilities aren't the equal of services like Google Drive. In addition, it lacks media streaming capabilities. Furthermore, sharing and collaboration aren't quite as intuitive as Dropbox. There's also a 2GB limit on uploaded files. Lastly, some third-party apps might be a bit wonky from time to time due to API changes made during the switch from SkyDrive to OneDrive.
SkyNox Review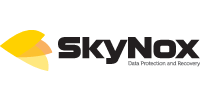 SkyNox Strengths & Selling Points
More so than most cloud backup platforms, SkyNox places a heavy emphasis on security as evidenced by its military-grade 448-bit encryption. Besides its rock-solid data protection, SkyNox's other major selling points are its ease of setup and user-friendliness. While SkyNox is all business when it comes to data integrity, it only takes a minute to install and configure. It allows for automatic, incremental backups on your own schedule without any hassle. Lastly, it's also one of the most affordable cloud backup services around.
SkyNox Potential Downsides and Cons
Due in large part to their single-minded obsession with security and data integrity, SkyNox isn't always an appropriate choice for the everyday user. While setting up SkyNox on a workstation or server might be fairly uncomplicated, administration isn't always as clear-cut. Furthermore, SkyNox doesn't have the same mobile app access options as most of the more popular cloud providers. Designed primarily for enterprises and small offices, SkyNox probably won't appeal to casual users who only need 5GB or so of backup space.
Choosing Your Online Cloud Storage Service
When choosing a cloud backup service to meet your personal and professional needs, there's really no right answer. Every cloud storage company has its winning qualities, after all. That having been said, any of the half-dozen platforms reviewed here could potentially fit the bill when it comes to fulfilling your requirements. When deciding on a solution for yourself or your business, consider the pros and cons examined above to increase the chances that your needs will be met when you settle on a service for good.