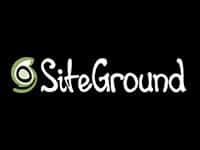 SiteGround is an international web hosting provider that was founded in 2004 by a group of friends who went to university together. The group initially worked out of their dorm rooms to create a web hosting service that has since grown to more than 400 employees who work hard to support hosting of half-a-million domains. Every day, the company fields 1,000+ phone calls, 3,000+ chat requests, and 1,500+ support tickets. They make customer service a priority.
SiteGround offers:
Shared and WordPress Hosting
Cloud Hosting
Enterprise Hosting
Dedicated servers.
SiteGround Shared and WordPress Hosting Features
WordPress hosting is all about value for money. SiteGround certainly competes. They have three shared hosting packages known as StartUp, GrowBig, and GoGeek, that are all also available in a WordPress hosting version. All three offer a set of essential features that include free site transfer, free e-mail accounts, unmetered traffic, cPanel and SSH, and more.
The WordPress Hosting plans offered by SiteGround are for their part a mix of managed WordPress hosting combined with the flexibility of a cross of a shared and VPS hosting plan. It is quickly becoming the most relied managed WordPress service in the industry.
For more information about SiteGround's WordPress hosting services, I suggest you read this SiteGround Review.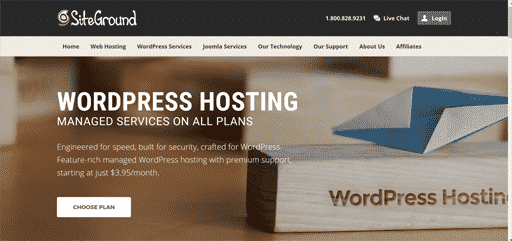 Shared and WordPress hosting accounts are also backed up by 24/7 support, free daily backups, and a 30-day money-back guarantee. Pay a little more for one of the two premium packages, and you will receive priority technical support along with a one-year free wildcard SSL.
The primary benefit of shared hosting is its low cost. Shared hosting with SiteGround is ideal for small businesses, not-for-profits, and individuals whose requirements do not necessitate cloud or enterprise hosting.
SiteGround Shared and WordPress Hosting Plan Prices
SiteGround's three shared hosting plans are priced as follows:
StartUp – $9.99/month; includes one website, 10GB storage, up to 10,000 monthly visits
GrowBig – $14.95/month; includes multiple websites, 20GB storage, up to 25,000 monthly visits
GoGeek – $29.95/month; includes multiple websites, 30GB storage, 100,000 monthly visits.
SiteGround Cloud Hosting Plans
Cloud hosting is essentially a managed hosting plan somewhere in between shared hosting and enterprise hosting. It is for clients who need the power of dedicated servers but don't mind the shared environment. With that said, the cloud allows for individual environments that are secured from all others. This security allows for enterprise-level data hosting at a lower cost.
SiteGround says their cloud hosting platform is perfect for both small businesses and high-traffic enterprise customers alike. The platform is scalable, fast, reliable, and customizable. Four preconfigured plans can each be adjusted according to the customer's requirements. Customers can set their own memory size, SSD space, and number of CPU cores.
Cloud Hosting Prices
SiteGround offers four preconfigured packages with pricing structures as follows:
Entry – $80/month; includes 2 CPU cores, 4GB memory, 40GB storage, 5TB data transfer
Business – $120/month; includes 3 CPU cores, 6GB memory, 60GB storage, 5TB data transfer
Business Plus – $160/month; includes 4 CPU cores, 8GB memory, 80GB storage, 5TB data transfer
Enterprise — $240/month; includes eight CPU cores, 10GB memory, 120GB storage, 5TB data transfer.
Customizing each of these preconfigured packages will affect monthly price. The company's website offers an easy-to-use configuration tool with sliders to control options. Pricing automatically adjusts as sliders are moved up and down.
SiteGround Enterprise Hosting Plans
Clients in need of top-notch enterprise services can count on SiteGround for bespoke solutions. Customized enterprise hosting is designed around the business customer's needs, so the first step in the process is for SiteGround to understand exactly who the customer is and what they do. They then design everything around the customer, from the infrastructure to the software behind the service.
This is a fully managed solution that offers personal account management, custom onboarding, enterprise-level support, and software expertise. No pricing is available on the SiteGround website given that enterprise environments are custom-built. You can submit an online form to request a quote.
SiteGround Dedicated Servers
Customers looking for dedicated servers in the US, Europe, or the Asia-Pacific region can find what they need at SiteGround. Dedicated servers are managed by experts and backed by proprietary software deployed to maximize performance and functionality. SiteGround offers three dedicated server plans that include plenty of raw power.
Each plan comes with full management and 24-hour VIP support. SiteGround will set up your server and keep all software up-to-date. They will monitor your hardware 24/7, responding immediately should there be even the slightest issue. And should you need any assistance, support is available around the clock via chat, support tickets, and phone.
SiteGround Dedicated Server Pricing
SiteGround's three dedicated server plans are priced as follows:
Entry Server – $229/month
Power Server – $329/month
Enterprise Server – $429/month.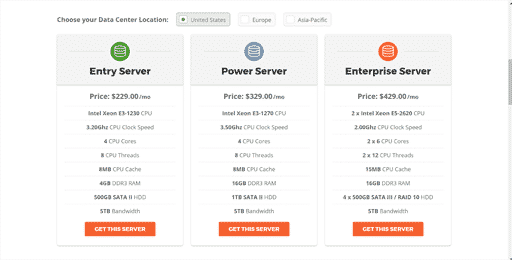 All servers feature Intel Xeon processors and multiple CPU cores. The numbers of cores, along with threads, memory, storage, and CPU clock speed vary across the three plans.
SiteGround Coupon Codes and Promotions
Every now and again, SiteGround offers promotions to attract new business. We do our best to keep coupons updated here on our website. At the time of this writing, SiteGround hosting plans are being offered with introductory prices with as much 60% off the standard price. Introductory offers vary in availability and length.
SiteGround Customer Service and Technical Support
Nearly every web hosting company offers customers 24-hour technical support. SiteGround is no exception. They support via telephone, live chat, and a dedicated ticketing system. They also claim that they overstaff their customer service and tech support departments so that there is always someone available to help.
Help and support extend way beyond just troubleshooting. SiteGround also provides assistance with scripts, plugins, templates, and application-specific problems that other companies will not deal with. Even more impressive is the fact that SiteGround maintains up-to-date profiles on all their support professionals. Whenever a customer gets in touch with support, they are able to see the profiles of any and all support personnel assigned to assist them.
SiteGround Overall Rating
SiteGround's shared hosting, WordPress hosting, cloud hosting, and dedicated servers are pretty much in line with the rest of the industry in terms of pricing and specs. Where they seem to have an advantage is with their enterprise hosting option. Being that it is completely customizable in every regard, it would appear as though they are willing to make it happen regardless of what an enterprise-level customer needs.
We are also impressed that the company is willing to offer support personnel profiles to customers. Not only does it create a more personal support experience but it also tells customers about the skills and experience of those they are trusting to help them.
SiteGround has grown to be a very strong contender over the last 13 years. The dedication to customers is their strongest asset, leading to an overall rating of:
Our rating:

4.7

/

5

stars