VexxHost is a Montreal web hosting company that provides innovative cloud hosting solutions, designed to meet the needs of all webmasters, no matter how big, or how small the site is. Their services are divided into 2 different web hosting solutions: Cloud Sites and Cloud Servers. Here is an overview of their cloud hosting products and their features.
2016 VexxHost Review Update: Based on our own personal experience, testing, and user feedback, we DO NOT recommend that you choose VexxHost as your host anymore. Please see our review page for VexxHost alternatives.
VexxHost Cloud Sites Web Hosting
The VexxHost Cloud Sites hosting service tier is presented as their standard hosting package and is designed for individuals or businesses who want a fully managed and optimized website hosting solution within a dedicated web hosting environment. It is a Cloud hosting service, therefore your site will be hosted on a high performance cloud server which is fully monitored. While this hosting tier is designed to be affordable, it is packed with features that you would see at other hosts for charges up to 3 times more for the same services.
Your website is stored on solid state drives, which are a lot faster than a regular hard drive, you get access to premium bandwidth, ensuring that your site loads faster for visitors and your service is backed by VexxHost's 100% uptime guarantee, meaning that your site will stay up all the time, with zero downtime.
The service is subdivided into several plans, with the main difference between them being the storage amount, bandwidth available, memory cache and the number of domains you can host. All of the plans are backed with VexxHost's 30 day money-back guarantee for peace of mind.
The VexxHost Cloud Sites prices vary from $5 per month to $80 per month depending on the plan level you select. The features included with the Cloud Sites plans include:
From 25GB to 400GB of redundant disk space;
From 500GB to 8000GB of monthly bandwidth;
Unlimited websites, add-on and parked domains;
Unlimited subdomains;
Unlimited FTP accounts;
CloudFlare Hosting – Protects your site from common online threats while speeding up performance;
Unlimited MySQL databases;
Unlimited POP3/IMAP email, with unlimited accounts, forwarding and autoresponders;
cPanel control panel;
Easy installation of scripts and content management systems (forums, WordPress, Joomla, etc.);
Comprehensive site statistics (Webalizer, AWStats, raw logs, etc.)…
VexxHost Cloud Servers Web Hosting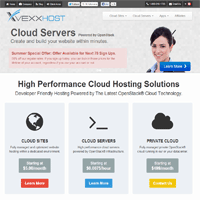 The VexxHost Cloud Servers hosting tier offers superior power for those who have more advanced hosting needs, such as online entrepreneurs that will host popular membership sites or several e-commerce websites. It gives you the power of a dedicated server, while keeping the low cost and flexibility of virtual cloud servers.
Unlike with other hosting companies, where you have to pay a fixed price per month, VexxHost's cloud servers are billed by the hour. This allows you to create and destroy cloud instances at will. VexxHost uses per-minute billing, so if you only use one of your servers for 15 minutes, you pay just for these 15 minutes and not more.
A Cloud Server user has the choice to deploy as many servers as he or she needs, which gives you additional flexibility during periods where a website is experiencing higher than usual traffic. You can also deploy a server if you're going to be testing some apps that you're developing and want to keep them separate from your live sites.
Cloud instance types have variable amounts of RAM, disk space and CPUs. The smallest instance has 256 MB of RAM, 10 GB of storage and 1 CPU, while the largest one offers you 64 GB of memory, a 2560 GB disk and 16 CPUs. You have the choice of either Linux or Windows operating systems. Each instance comes with 1 public and 1 private IP, but you can add more IP addresses to your servers as desired.
VexxHost Review
Overall, VexxHost is an excellent solution for website owners who need superior hosting capacities and features at a reasonable price. While Cloud hosting might not be necessary for a personal website, anyone doing any kind of business online or expecting a high load of traffic to their website will undoubtedly benefit from the superior web hosting offerings of VexxHost. Moreover, VexxHost is a Canadian web host who has quickly a international reputation as a leading Cloud hosting provider. If you're looking for a Cloud host, we recommend you check them out.