Over the last eight years, GreenGeeks has been making waves in the web hosting industry by offering customers affordable and industry-leading web hosting services that are also less taxing on the environment. The company's commitment to green web hosting is second only to its commitment to 100% customer satisfaction. Now, they are making it easier for customers to get on board with the introduction of three GreenGeeks coupon codes.
Each of the three GreenGeeks coupons offers you an opportunity to start a new service with GreenGeeks as either a retail customer, enterprise customer, or reseller. Just enter the coupon code at the time you sign up for new service and you will enjoy your new service at a discounted price. Here are the details for each coupon:
Annual GreenGeeks Shared Hosting Accounts – 60% Off Coupon
Shared hosting is the most popular and affordable way for small businesses, non-profits, and individuals to get started online.
GreenGeeks 60% Discount
Get a 60% discount when you purchase a new GreenGeeks's web hosting plan for your website with this GreenGeeks coupon code.
New customers establishing a shared hosting account with GreenGeeks can receive 60% off with the TAKE60OFF GreenGeeks coupon code.
Make sure to enter your GreenGeeks coupon code: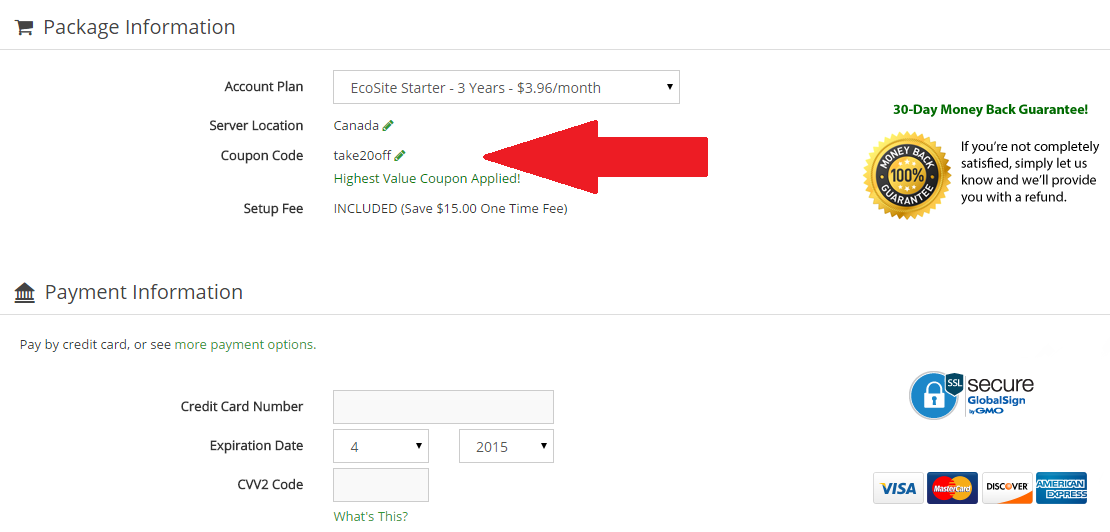 With that kind of savings on the line, there really is no reason to not take a look at what GreenGeeks has to offer. All new shared hosting customers enjoy the following great features:
Unlimited domains (one account)
Unlimited storage space and data transfer
Secure e-mail accounts
Free domain name registration or transfer
Free site building tools
Free site migration
30-day money back guarantee
99.9% up-time
US-based support 24/7/365
GreenGeeks VPS Hosting – 60% Off Coupon
Larger companies and enterprise customers appreciate the value of virtual private hosting (VPS) because it offers the security and stability of dedicated servers without a considerable investment in purchasing equipment. VPS hosting has become a mainstay among growing businesses worldwide.
New VPS customers who sign with GreenGeeks can use the VPS60OFF GreenGeeks coupon code to take 60% off for the first month of service.
GreenGeeks offers five different VPS packages, each with different amounts of RAM, storage, and bandwidth:
1 GB RAM with 25 GB storage and 1000 GB bandwidth
2 GB RAM with 50 GB storage and 1500 GB bandwidth
3 GB RAM with 75 GB storage and 2000 GB bandwidth
4 GB RAM with 100 GB storage and 2500 GB bandwidth
8 GB RAM with 125 GB storage and 3000 GB bandwidth
GreenGeeks Reseller Accounts – 60% Off Coupon
Becoming a web hosting reseller is a great way to build a business in the technology sector. If there is one thing our resellers know, it is the fact that there's nothing like being your own boss while at the same time being supported by an excellent service provider such as GreenGeeks. Reselling our service means you will be able to offer your customers web hosting products with full confidence that they will get the same 99.9% up-time and other benefits our retail customers enjoy.
Right now, you can establish a new reseller account and take 60% off your first month's charges. The RESELLER60OFF GreenGeeks coupon code is good for monthly, quarterly, and annual reseller packages. The discount is not available to reseller renewals.
GreenGeeks is an industry-leading web hosting company committed to providing customers with best-in-class service and an opportunity to work together to reduce environmental impact. You can be part of the GreenGeeks family by signing up for a new shared web hosting or VPS account, or starting your own business as a reseller. Do not forget to use the appropriate coupon code to save 60% when you do.