GreenGeeks.ca is the Canadian web hosting spin-off of GreenGeeks, who has been one of the world's top providers of eco-friendly web hosting since 2006. The web host data center is based in Toronto, Canada, and their corporate offices are in Santa Monica, California. GreenGeeks Canada offers green hosting and, although they need energy to keep everything running, they do purchase wind energy credits to account for as much of their energy use as possible. The web host recycles and reuses parts and materials wherever possible.
GreenGeeks Canada top notch customer service team is a combination of Canadian and American personnel. In addition to shared web hosting plans, the company also offers a web design service. GreenGeeks has recently expanded and offers a choice of several server locations and a number of affordable payment options.
GreenGeeks Shared Hosting Plan Features
When you choose shared hosting from GreenGeeks, you will be able to get your website online rapidly once payment has been received. GreenGeeks offers a shared hosting plan that can be used for the popular CMS, Drupal, Joomla and WordPress. Backups are made each night and GreenGeeks promises its customers 99.9% uptime. When you choose one GreenGeeks' hosting plan you get unlimited disk space and unlimited bandwidth. You get a free site builder, unlimited email forwarding, email accounts, auto responder and secure email support.
GreenGeeks Canada offers customers a free domain name, you can have unlimited domains hosted and you get an unlimited number of MySQL databases along with unlimited FTP accounts. Bonus features include a Form-mail script, mailing lists and blogs CMS. The Flash/Shockwave bonus option supports a number of multimedia features, including video streaming. If you plan on selling products and merchandise via your website, there are a number of E-commerce features, including a choice of three shopping carts.
GreenGeeks Shared Hosting Plan Prices
The shared hosting plan offered by GreenGeeks, EcoSite Canada, offers a pricing structure on a 3, 2, or 1 year basis, and a monthly one as well:
$3.95 per month for a 3 year plan – currently $2.95 per month with our special link
$6.95 per month for a 2 year plan
$7.95 per month for a 1 year plan
$14.95 per month + a $15 one time set-up fee for a monthly plan
GreenGeeks Canada Coupon Code
When you use our exclusive GreenGeeks coupon code when ordering your hosting plan, you automatically receive a 60% discount on the price of your web hosting plan:
Where to input the GreenGeeks coupon code: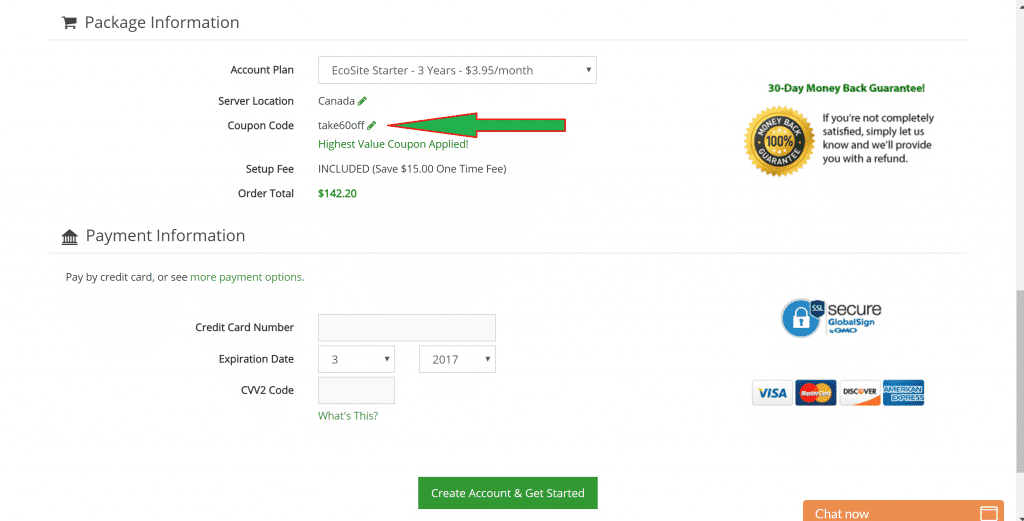 Green Geeks Canada Customer Service/Technical Support
GreenGeeks has a large customer base in Canada and in the United States. Testimonials from customers support the view that this web host stands out from the rest for their customer service and technical support. The host offers 24/7 support 365 days a year. Customers can use a help/support ticket and receive email support and telephone support. GreenGeeks contact details are on their website.
GreenGeeks Canada Review
GreenGeeks offers a flexible web hosting plan, with interesting features. On top of that, as their name implies, they are geeks of green web hosting. They have an excellent reputation for their good relationship with their customer. It is one of the best Toronto Web hosting company out there.
While their month-to-month price is on the high side, their yearly, 2–year and 3-year are on the other hand very affordable considering what you receive.
Reliable, check. Full featured, check. Environmentally friendly, check. For Canadians, GreenGeeks quality to price ratio is hard to beat, and that's why we recommend them.
If you're looking to host a Drupal, Joomla, or WordPress site, you can't really go wrong with GreenGeeks.
For more information or to order your GreenGeeks web hosting account, visit GreenGeeks.ca.