If you're a jaded web development professional, you probably tend to forget about the confusion you experienced when you were first introduced to the world of web hosting. For newcomers, the vague and sometimes contradictory terms associated with hosting and servers can be intimidating. Beginners tend to opt for the cheapest plan possible without weighing the pros and cons of any given option. Depending on the specific site you plan on hosting, it can be wise to purchase a more robust, more expensive server. If you need more than a shared hosting plan can provide, a dedicated server might be the ticket.
What Are Dedicated Servers?
Website content can be served up from a diverse array of machines. Most small to medium-sized sites typically use either shared hosting or Virtual Private Server hosting to deliver a moderate level of performance. While a shared hosting plan or VPS is usually powerful enough for most entry-level sites, they simply won't do once you reach a certain level of daily traffic. For the best performance possible, you'll need a dedicated server that gives you maximum control over your machine. A dedicated server allows you to host a website from a single machine with its own RAM, CPU power and disk space.
Why They're Necessary
For most sites, dedicated servers become a necessity when daily traffic figures hit a number that can't be supported by a shared hosting plan or VPS. A shared host's allotted portion of a machine's CPU power, memory, disk space and data throughput can only respond to so many requests at the same time. A dedicated host can handle far more simultaneous requests. Furthermore, dedicated servers allow webmasters to distance their websites from others in the eyes of search engines like Google. As a result, dedicated servers can improve SEO, strengthen security and ultimately enable greater flexibility for those that have exact server requirements.
Choosing a Dedicated Server
When settling on a particular dedicated server, there are a few major considerations to take into account. For one thing, a topnotch dedicated server needs to be supported by a fast network with at least 100Gbit of total capacity. In addition, it's important to look at the hardware you'll be getting with your dedicated hosting plan. The latest processors and plenty of RAM are absolutely critical. Furthermore, there's the question of on-site management and maintenance of your hardware by the hosting company in question. Exemplary technical support is a must if you're at all interested in avoiding frustrating hiccups and potentially disastrous downtime.
Web Hosting Canada's Dedicated Options

Web Hosting Canada offers Canadian dedicated servers hosting. Their entry-level Dedi Pro plan provides users with a machine that boasts an Intel Xeon E3-1245 CPU 4c/8t – 3.4GHz, or equivalent, with 32GB of DDR3 RAM and two 2TB SATA disks or two 480GB SSDs. Like all of the dedicated hosting plans available from Web Hosting Canada, Dedi Pro comes with unlimited bandwidth. In addition, users can choose from a number of operating system such as Ubuntu, Debian, CentOS or Windows. Most impressive of all is the fact that it includes 24/7 support for free.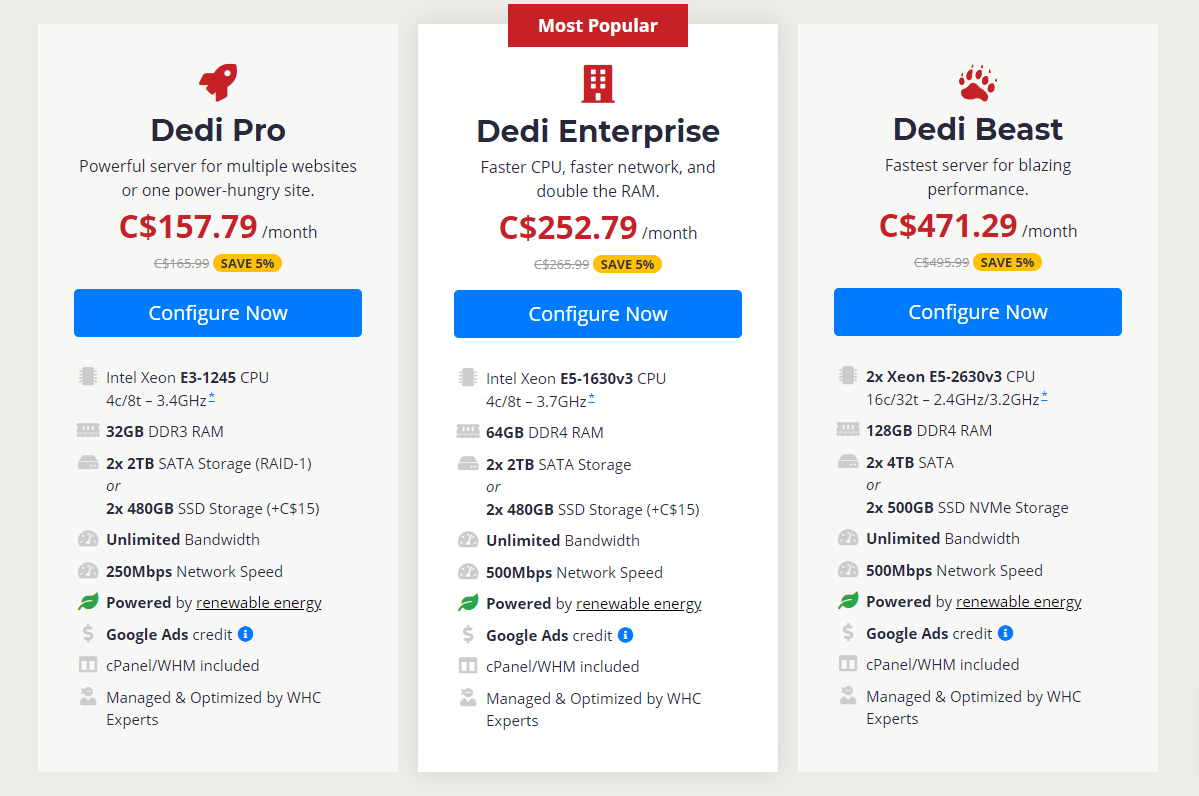 If the Dedi Pro plan isn't quite your speed, you can always move up to the Dedi Enterprise plan. It boasts an Intel Xeon E5-1630v3 CPU clocked at 4c/8t – 3.7GHz, or equivalent, with 64GB of DDR4 RAM and dual 2TB SATA hard drives or 2x 480GB SSDs. With the Enterprise plan, customers get unlimited bandwidth via a 500Mbps port instead of 250 Mbps with the Dedi Pro plan. As with any plan from Web Hosting Canada, users can be assured of a 4-hour turnaround time on hardware replacement if anything should go awry. The Enterprise plan also comes with automatic daily backups.
For the ultimate in dedicated server hosting, the Dedi Beast plan is the way to fly. It runs on a machine that has an 2x Xeon E5-2630v3 CPU clocked at 16c/32t – 2.4GHz/3.2GHz, or equivalent, 128GB of DDR4 RAM and two 4TB hard drives or 2x 500GB SSDs. Aside from the fact that it utilizes an incredibly powerful machine, the Beast plan includes unlimited bandwidth, automatic daily backups, and your choice of a datacenter in North America or Europe. Back-end administration is handled by cPanel/WHM, which makes setting up and configuring a server an absolute breeze.
The Right Dedicated Server for You
More Info on Web Hosting Canada
It's important to match your server requirements with the proper dedicated option to get the best return on your investment. Of course, accurately estimating your needs can be difficult if you're new to the dedicated server world. Scaling up to a higher level of dedicated server presents its own difficulties. Web Hosting Canada's dedicated servers are configured to provide adequate coverage across the spectrum of demand and priced to move. If you need a dedicated server that can go the distance with a minimum of hassle, Web Hosting Canada is the way to go.