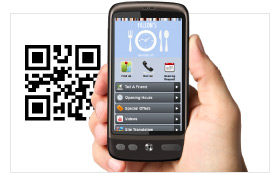 A mobile website is essential if you want to reach the increasing number of people who access the Internet using mobile devices. The goMobi mobile website application on HostPapa allows you to turn your website into a mobile site quickly even if you do not have technical or programming knowledge.
As 3G and 4G mobile broadband networks and Wi-Fi hotspots continue to expand, people will be able to go online from an increasing number of locations. Already, Internet access is available from almost any urban area and the breadth of rural areas with access continues to rise rapidly.
The expansion of available Internet connection options combined with the popularity of mobile devices, ranging from traditional laptops to smart phones and tablets, makes it extremely important to offer mobile-friendly web pages. This is especially true for online businesses that are competing for the growing number of customers who shop over the Internet.
Failure to create a mobile site will put businesses at a serious advantage because the traditional website is difficult to view and use on a small mobile device screen. Furthermore, a site optimized for mobile offers excellent features that improve the ability of customers to purchase products or to contact the company.
GoMobi offers fast and easy setup

The HostPapa green web hosting service provides clients with the goMobi setup assistant that allows for simple and fast creation of mobile friendly versions of web pages.
The mobile web pages do not replace the normal pages seen on large desktop or laptop viewing screens. Instead, the mobile version only appears when the visitor is viewing the page from a small mobile device screen.
Most web servers are capable of detecting the size of the viewing screen before the page renders and they can choose an alternate mobile version of the page if the screen is small. All of this takes place instantly and is not noticeable to the visitor. The mobile and normal version load seamlessly as the server detects the device at lightning speed.
GoMobi offers a range of design options including custom background and other page colors. You can brand the site with your logo and add whatever goMobi features you like to your website. Additionally, the easy-to-use interface makes it simple to update your site at any time.
Once the mobile website is ready, visitors can access pages using thousands of popular mobile devices such as iPhone, iPad and Android platform smart phones. Such easy access offers distinct advantages when compared to websites that are not set up specifically to accommodate mobile device users.
How to create your mobile website with GoMobi
The first step is to set up your mobile domain by logging in to your HostPapa cPanel in order to create a new CNAME record:
Log in;
Click "Simple DNS Zone Editor";
Choose the domain to modify;
Where it says "Add a CNAME record," enter an 'm' into the "NAME" field and the domain name "lb.gomobi.info" to the "CNAME" field to create a new record.
Now, you can start building your goMobi mobile website:
First, log in to your goMobi account using the information provided in your HostPapa welcome email;
Click on the Launch Site builder option, then select the Design and Features tab to begin designing your site. You can select whatever features you want your new mobile-friendly site to have after which you click "OK" to add them to the site.
If you need help learning about goMobi's different features, you can simply click on the "Help" link for an easy-to-use instruction manual and troubleshooting guide.
Redirecting mobile traffic to your new goMobi website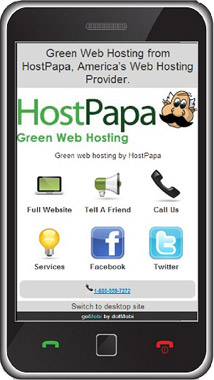 Now that you have created a mobile version of your site, you must now upload instructions for the web server directing it to detect automatically when a mobile device attempts to access a web page.
By inserting the appropriate text from the 'redirection code language" menu, the servers will detect mobile devices and show the mobile version of web pages rather than the larger desktop version. Paste the code into the header of your website's main "index.html" file.
Now, everything is ready to go on your mobile website!
The mobile page appears with icons typically used on mobile sites that most users will instantly recognize. The page format renders in a mobile friendly version geared toward the vertical scrolling of these devices and the touch screen features.
Among goMobi's mobile features are one-touch "Find us" and "Call us" buttons that allow visitors to have instant access to contact options. Visitors will be able to find important information quickly including location, maps, hours, driving directions, coupons, reservations and other business details.
For example, one click will take customers to the "About Us" section if they are interested in getting detailed information about your company. A news icon provides access to your company's newsfeed. The Reservations icon allows customers to make online reservations directly from your website.
Other icons provide social networking capability including connections for Facebook, Twitter and LinkedIn. You can also directly tell a friend about the website using SMS text messaging.
GoMobi offers detailed traffic stats that allow you to analyze how visitors and customers behave while at your site along with search engine optimization (SEO) features for attracting new visitors from the major search engines.
The "Add 3rd party advertising" icon provides a source of additional revenue by allowing third party companies to place ads on your mobile website.
For detailed information on setting up a mobile website, you can find advanced tutorials at the goMobi website. HostPapa also offers video tutorials at the following URL: http://www.hostpapasupport.com/go/gomobi/.
About HostPapa

HostPapa is a privately owned eco-friendly web hosting company located in Niagara Falls, New York and Oakville, Ontario, Canada. The company guarantees maximum server uptime and provides dedicated customer support. HostPapa also uses 100 percent certified green and sustainable energy sources. The company power sources have green certification from green-e.org and b-e-f.org. For more information, you can visit the company website at HostPapa.ca.