During the month of June, myhosting.com is continuing with its offers by providing 4 June 2012 MyHosting coupons to its new and existing clients. Each of the June 2012 MyHosting promo code listed on this page will save customers between 20% and 50% on their first web hosting bill.
The MyHosting promo codes listed below are valid througout the month of June:
MyHosting Free Months of VPS Hosting
Receive 3 months free for annual VPS signup, 4 months free for 2 year VPS signup or 6 months free for 3 year VPS signup with this MyHosting promo code.
MyHosting 50% Discount Shared Hosting
Receive a 50% discount when you order a shared hosting plan - Personal Website, Business Hosting or eCommerce Hosting - with this MyHosting Coupon Code.
MyHosting 20% Discount VPS
Receive an additional 20% discount on any VPS order that you place on MyHosting.com.
MyHosting 20% Discount Business Website Hosting
Receive a 20% discount of MyHosting.com's Business Website Hosting plan ($7.95 per month instead of $9.95) when you use this MyHosting coupon code.
In order to use one of the MyHosting promo code of June 2012, you must click on the yellow promo tag which displays the promo code you want to use. The promo code will be copied in your clipboard, and you will be automatically redirected to the website of MyHosting.com. Once on the website, you only need to choose the hosting plan you want to order and then paste the promo code in the promo code box.
For example, if you choose the Business Website Hosting Plan offered by MyHosting, you should use the 50% discount promo code, as shown in the screenshot below: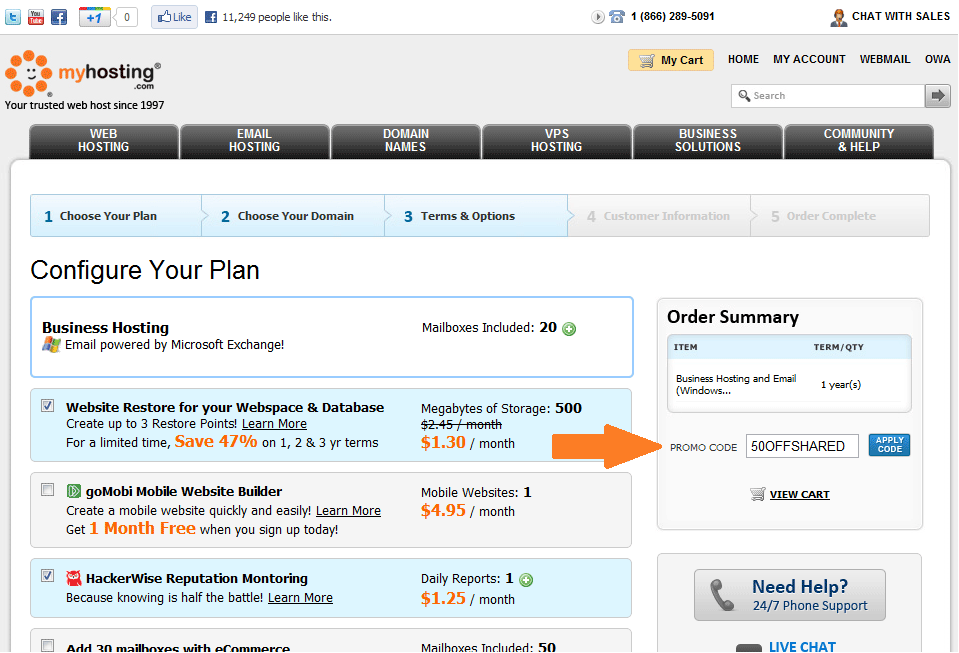 You want to know more about the Canadian Web Host MyHosting? Please head on to our MyHosting.com Review and MyHosting.com Coupon Codes List pages.