An Introduction to Shopify for E-Commerce Newcomers – When setting up a new e-commerce website and its accompanying shopping cart, consumers have a lot of choices in terms of software. Online shopping carts have become so complicated that rolling your own solution is rarely a viable option, even for experienced web developers. Nowadays, e-commerce solutions range from minimalist programs like Magento to all-inclusive platforms such as BigCommerce. For quite a few merchants, something more middle-of-the-road is oftentimes desirable. If you're looking for a turnkey e-commerce program, Shopify is one option that's arguably the best that's currently available.
What Is Shopify?
Simply put, Shopify is a hosted e-commerce platform that enables users to quickly create an online storefront with minimal effort. That means you don't have to worry about setting up web hosting or configuring a lot of back-end code to get going. Launched in June of 2006, it's based on the popular and versatile Ruby on Rails web framework. Customers can customize their stores with a variety of preconfigured templates and themes. Prominent users include brands like General Electric, Tesla Motors, Pixar, Evernote and Tata Group.
How Does Shopify Work?
In order to get started with Shopify, all you need to do is purchase a domain name and then buy a plan on Shopify.ca. Once you've got your domain pointed to your store, Shopify's helpful installation guide will walk you through the process of configuring your site. As an all-inclusive hosted e-commerce platform, it takes care of pretty much everything else for you. You'll of course need to select a theme, choose the plugins or Apps you desire and add products you wish to sell. Other than that, Shopify does the rest.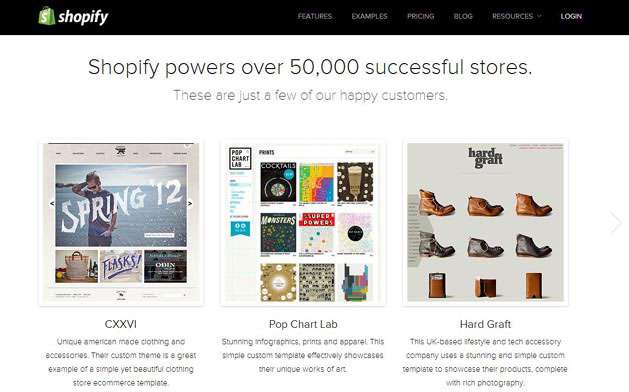 Shopify Features & Benefits
Both a capable website builder and an e-commerce shopping cart, Shopify has more than 100 themes available in the Theme Store. You can also customize HTML and CSS by hand to get the look you desire. All Shopify plans come with unlimited bandwidth, a 128-bit SSL certificate and support for many payment processors including PayPal. The included CMS allows you to manage inventory easily and publish blog posts. If you're not up to tweaking your site yourself with plugins from the App Store, Shopify Experts can get you in touch with the right developer.
Shopify Prices and Plans
Available at a variety of price points, Shopify has four plans: Starter, Basic, Professional and Unlimited. The Starter plan features support for 25 Products, 1GB of storage and 2.0% fees on transactions for $14 per month. The Basic plan extends the Starter package by adding support for up to 100 products for $29 a month. Professional ups the ante with support for 2,500 Products, 5GB of storage space and 1.0% transaction fees for $59 per month. Lastly, the high-volume Unlimited plan boasts unlimited everything and zero transaction fees for $179 per month.
Shopify Pros & Cons

On the plus side, Shopify is incredibly easy to set up, administer and customize. Thanks to the slew of available themes and the stable of design gurus found on Shopify Experts, you can create an amazing e-commerce website that meets your needs. If you'd like to test the waters, Shopify offers a free 90-day trial. The only real downsides are pricing and default capabilities. Some e-commerce platforms are cheaper, though they require more work. In addition, Shopify lacks certain built-in features, though they can be added with third-party apps.
Shopify Primary Target Audiences
Though no e-commerce platform can be all things to all people, Shopify can adapt to meet the needs of most stores. Major corporations use Shopify to build high-traffic websites that handle thousands of transactions per day. Additionally, Shopify is often the go-to storefront for SMBs and independent entrepreneurs that need to get up and running in a flash without a lot of hassle. If you run a high-margin business and don't mind the transaction fees, it'll probably be a good fit for you.
Shopify Review – The Last Word
Ultimately, Shopify is a terrific choice for would-be web entrepreneurs at all levels. Their approach to customer service and support is admirable, the software itself is quite versatile and the pricing is reasonable considering what you get for your money. As with many other decisions related to e-commerce, you'll need to crunch the numbers to see if it's the best deal for you before pulling the trigger. That having been said, Shopify is never a bad choice when launching a new online business.