Anyone looking for an all-in-one e-commerce platform is bound to run across Shopify sooner rather than later. At present, roughly 150,000 online shops use it to power their transactions. Since launching in 2004, it's been responsible for over $7 billion in merchant revenue. Those that have already opted for Shopify are overwhelmingly satisfied with their service. What potential adopters are often looking for is a clear-cut articulation of why it works so well for a variety of digital enterprises. If that description applies to you, here are five compelling reasons to sign up for a free, 14-day Shopify trial.
1. It's Incredibly Easy to Use
Easily one of best reasons to choose Shopify is the fact that you don't need any technical skills to use it. Its streamlined, point-and-click Dashboard makes it a breeze to create and administer a digital store of any size. If you want to radically alter the look of a store, you can do so with a single click via the Theme Store. Any additional functionality that you require can be tacked on instantly via the App Store. Finally, you can accept credit or debit funds without setting up third-party processors thanks to Shopify Payments.
2. It's Extremely Affordable
For small-time shop owners that are just starting out, minding the budget is usually a top concern. Shopify allows hungry upstarts that don't have unlimited funds to get their business off of the ground for just $29. Every Shopify plan boasts unlimited product support and bandwidth. Better yet, there are no setup fees or transaction costs above and beyond the card rates as long as you use Shopify Payments. The popular Professional plan comes with 5GB of storage space and packs enough firepower to run all but the busiest of online storefronts for just $79 per month.
3. It Inspires Consumer Confidence
For new online stores that are struggling to attract a following, the first few months matter immensely when it comes to building a reputation. As far as brand identity goes, appearances are often everything. Shopify makes it easy for store owners to present a professional image to shoppers right off of the bat without a lot of work. From unified site themes to abandoned cart emails, Shopify has all the tools you'll need to look like a competent merchant. If you need a polished look from the get-go, Shopify is the way to go.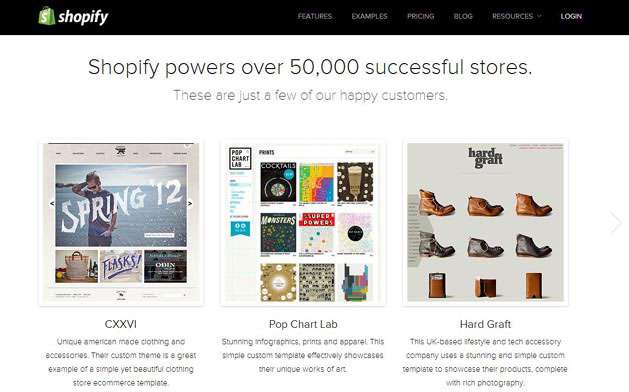 4. It Enables Rapid Store Growth
One of the greatest challenges that digital entrepreneurs have to face in today's business environment is scaling up. Fortunately, Shopify takes care of the complicated back-end headaches that come with rapid growth so that entrepreneurs can focus on customer service and product development. If the App Store doesn't have the extension you're looking for, you can use the Shopify API to add custom functionality. The platform also boasts terrific mobile management for iOS and Android. They even rolled out their own mobile card reader for accepting payments in person in the real world.
5. It Has a Great Support System
Last but not least, Shopify never leaves its customers hanging when it comes to support. No matter what your problem may be, their highly trained customer service technicians can walk you through it over the phone or via email. In addition, the Discussion Forums are a great way to pick the brains of existing shop owners that have a little experience under their collective belts. If you need some serious one-on-one assistance, the Shopify Experts program will match you up with the right designer or developer to help you solve your site issues.
Starting Off on the Right Foot
Probably the best thing about Shopify is that it makes it difficult to commit egregious errors when building a new store from scratch. You can make life easier on yourself as a beginner digital entrepreneur by familiarizing yourself with the platform via the Shopify Manual. As long as you have a more or less cohesive vision for your store, Shopify will provide the necessary infrastructure to achieve your dream. With a little bit of preparation, anyone can get a Shopify shop that'll go the distance up and running in under a day.