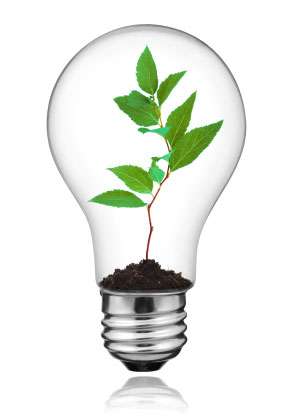 The green revolution implies and evokes a lot of things. It evokes using fewer trees, getting clothes made from sustainable materials and eating organic food. Perhaps the last thing people think about is Web hosting. Few people even realize that normal Web hosting is potentially dangerous to the environment, and even fewer know the difference between normal and green Web hosting.
Why is Hosting Dangerous to the Environment?
The Web servers used to host websites need a lot of energy, which requires a constant flow of electricity. For normal hosts, the power normally comes from power plants that are using diesel and other power sources. Due to the amount of energy used, this makes hosting potentially dangerous to the environment.
Renewable Energy
One of the biggest things that separates green hosting from other hosting is that the majority or all of the power is derived from renewable sources. The most common tends to be energy from windmills, but hydroelectricity and solar power are also very common.
Most green hosts do have diesel backup generators, because these can generate a lot of power, but they are only used if the servers are in danger of shutting off due to a power outage.
Green Offices
Some green hosts go further to improve how green their business is. Traveling to work requires the use of transportation, which lets off fumes and toxins into the air. To counter this, green hosts may enable workers to telecommute, or work from home.
Many of these offices are also paperless, which further reduces the amount of resources used by the host.
Hardware
To minimize the amount of power needed, and to make it easier to stably use renewable energy, most green hosts use efficient servers that run in low-powered environments. While this does not describe all green hosts, there are many striving to use these servers. These servers have about the same strength as other servers, but they need less power.
Green Web Hosting Prices
Just like regular hosting, green Web hosting has a varying level of prices. Most green hosts have shared web hosting services and cost around $5 to $10 a month, but it is entirely dependent upon the services being rendered. Usually the costs are equivalent to normal hosting fees, though they might be a bit cheaper.
Services and Quality
While there have not been many studies on the subject, the quality of green hosting is roughly equivalent to normal hosting. The servers receive enough energy to work, and most green businesses boast 99.9% uptime.
In terms of services, you also get roughly the same. Most of these hosts offer unlimited bandwidth, disk space and databases. You also gain access to several programming languages, such as PHP, Ruby and Perl.
Green Web Hosting Companies
Nowadays, a lot of webhosts boast some kind of green products or services, or advertise that they implement one or a couple of the green measures that we have described above. That said, few web hosting companies can tout themselves as being complete green web hosts.
Two great web hosts have built their reputation and business on being effective green companies. They are the two green web hosts that we recommend on this website: GreenGeeks.ca and HostPapa.ca.
We have written about these two green web hosting companies in the past, so to learn more about them, please read the following articles:
Conclusion
In terms of service, quality, price and most other factors, green Web hosts are roughly the same as normal hosts. However, they do one thing that normal hosts don't: reduce their load on the environment. If you are trying to reduce your own footprint without sacrificing quality, then choosing green hosting may be the best way to go.