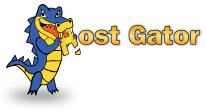 Popular web hosting provider HostGator announced earlier today the release of a time-limited coupon code that allows customer to receive a 40% discount on the price of any of their shared hosting plans. Using the HostGator coupon code below, you will receive 40% off the price of your chosen hosting plan (Hatchling Plan, Baby Plan, and Business Plan):
HostGator 40% Discount
Get a 40% discount on the price of your bill when you order a shared hosting plan on HostGator.com

However, as you can see, this HostGator promotion will only last four (4) days. The coupon code will expire this Friday, August 31st, 2012, at 11:59pm CST.
We have a 25% discount HostGator coupon code that currently brings down the monthly cost of the Hatchling Plan to $3.96 a month. With this coupon code, the price of a Hatchling Plan comes out to $2.97 a month.
HostGator's shared hosting plans offer unlimited bandwidth, disk space, and email. They offer a bunch of user-friendly tools for free, such as site building tools, 4,500 website templates, forums, membership scripts, shopping cart software and photo galleries. All HostGator plans come with a 45 day money back guarantee.
HostGator also offers VPS and dedicated servers. HostGator is also a popular choice for resellers who wish to enter the web hosting market or for web developers and designers who want to host websites for their clients. Although this specific coupon is only for shared hosting plans, you can still use one of our other HostGator coupon codes before ordering any of the other services offered by Host Gator.
For more information about HostGator, please read our HostGator review.