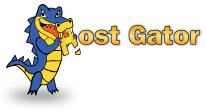 For one day during the month of May, HostGator is offering a 51% discount on its web hosting plans by using the coupon code below. This HostGator promotion is only valid on May 29, 2013.
To receive your 51% discount on your web hosting order on HostGator.com, click on the coupon code below, and it will copy it to your clipboard automatically. You can then paste the coupon code in the appropriate field on the HostGator on the order page:
The discount offered by this coupon code will apply to your first invoice for any of the HostGator's hosting plans.
If this coupon has expired, visit our HostGator.com Coupon Codes 2013 page for the latest code of this year.