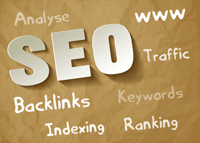 Easily one of the most misunderstood concepts in today's Internet landscape is Search Engine Optimization. Tech pundits are constantly harping on the importance of SEO when it comes to site success and e-commerce profitability. While it's possible to perform basic SEO tweaks yourself, managing an entire SEO campaign without professional assistance can be hard. Here are some reasons why hiring an SEO company to market your site on the web can sometimes be a good idea.
Online Visibility Directly Impacts Revenue
Even if you don't sell directly to consumers online, your rankings in the organic search results will affect sales. Everyone from pre-teens to octogenarians rely on trusty Google searches to inform their buying decisions. A solid SEO specialist can help you to dominate the local market in your area. If you plan on expanding into other markets, they'll ensure that the right consumers find your site.
A Great SEO Firm Can Keep Your Business Afloat
For low-margin businesses, volume is a key part of the success equation. Likewise, any new business that's fighting to carve out its own space in a tough industry sector needs every single client that they can get. Whether you're a long-time business or a brand-new upstart, SEO professionals can secure the crucial edge you'll need to survive during the lean times.
SEO Experts Can Guide Future Decisions
During the process of optimizing an online presence, a veteran SEO technician can learn quite a few things about a business's current and ideal client base. As such, an SEO campaign can be a roundabout way of performing surprisingly in-depth market research. If you want to diversify your operation by branching out into other areas, SEO insights help when you're drafting an expansion plan.
SEO Simply Can't Be Mastered Overnight
More than a decade ago, an SEO amateur could use keywords and inbound links to dominate a particular query phrase in Google's search results. Those days are long gone since the major search engines have made their ranking algorithms vastly more complicated. In certain industries, winning the SEO war requires the kind of intuition and hard-earned wisdom that only comes from years of real-world experience.
Qualified SEO Technicians Pay for Themselves
If you want SEO to work in your favor, you're going to have to pay for the services of a top one. The good news is that the right SEO experts generally pay for themselves right off the bat by quickly improving revenue and ROI. Unless your business model is terribly flawed, an SEO professional can have your site firing on all cylinders in no time. Beware though of SEO companies that promise unbelievable results in record time. You know the saying; if it's too good to be true…
Finding an SEO Company Worth Its Salt
It should go without saying that an SEO company that's not willing to back up an alleged track record of success with proof isn't worth your time or money. Furthermore, a promising potential SEO provider will tie their compensation to some measure of performance. If you can find these two qualities in an SEO company, you're good to go.